Learn how to make a punch needle wall hanging on wool fabric in this step by step tutorial and video!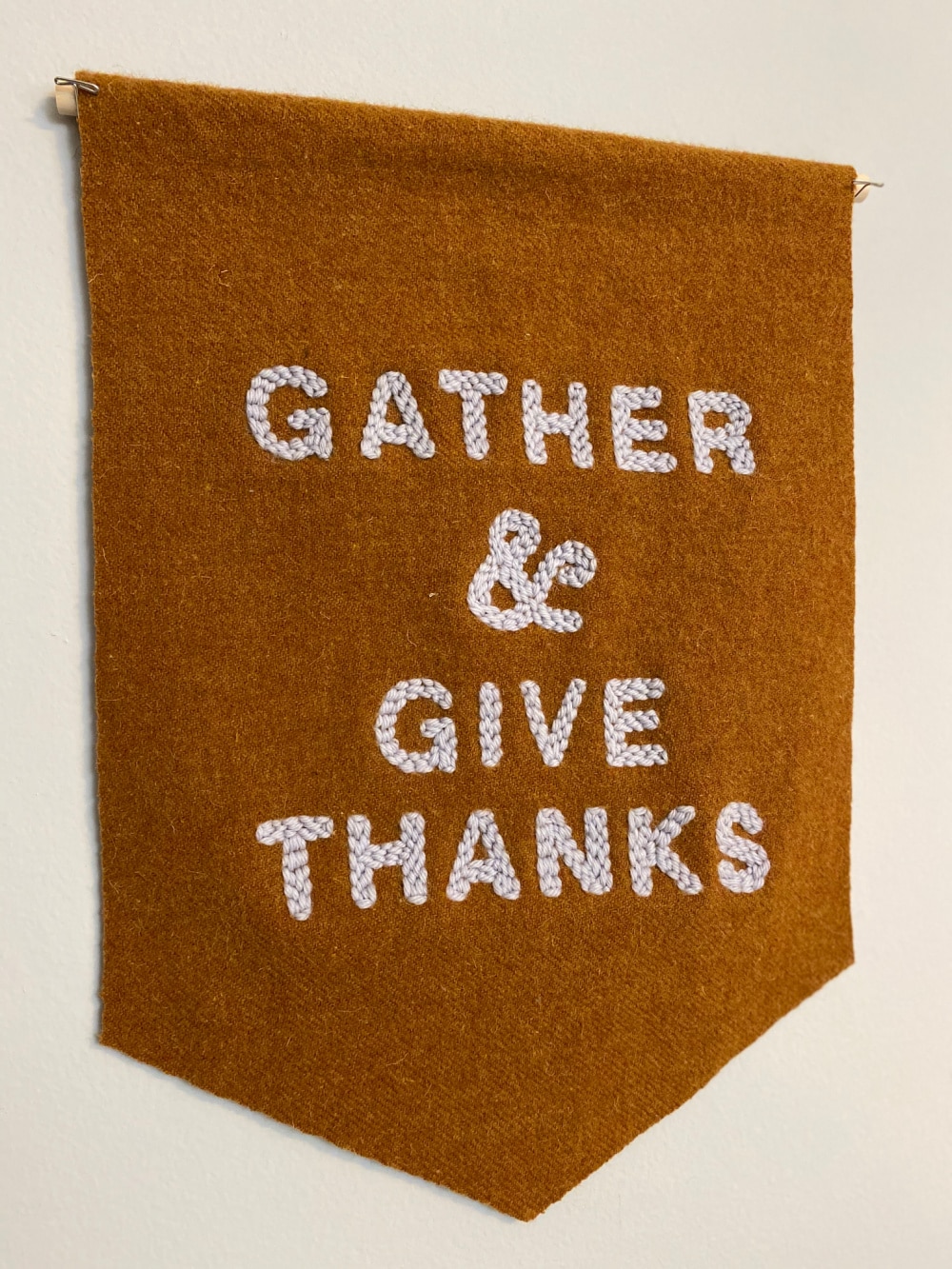 Have you seen these cool fabric wall pennants with words embroidered or appliqued on them popping up all over the place?
I have, and I love them! I decided a punch needle wall hanging on wool was in order and I created this fun project tutorial so you can make one too.
My inspiration all started with this wool fabric I bought a while back. I really didn't have a plan for it and honestly it was a bit of an impulse buy.
I knew I wanted to do something with punch needle and wool, and I originally assumed I'd cut it into strips and use it to punch needle with. Then I did a little research and found out you can actually punch directly onto the wool itself and I just had to try it!
This pattern is inspired a popular Thanksgiving decor quote (one of my favorites), but you could make this wall banner any time of year.
I think it lends itself to the fall and winter months because of it's cozy vibe, but I won't judge you if you want to make one in the middle of summer!
The finished size of this sign is about 11″ x 16″, but yours may vary slightly depending on how you cut it.
Get your FREE printable pattern
Grab your free pattern by filling out the form below!
(This post contains affiliate links. If you click one and make a purchase, I may receive a small commission at no extra cost to you. Read the disclaimer here. Thank you for your support!)
Supplies You'll Need to Make Punch Needle Wall Hanging on Wool Fabric
Worsted weight wool yarn (The color I used is called Gull)
Pen (contrasting from fabric color, I used a white gel pen)
Metal ruler
Free printable pattern (see the form above)
How to Make a Punch Needle Wall Hanging on Wool Tutorial
Step 1: Put the fabric in your frame and transfer the pattern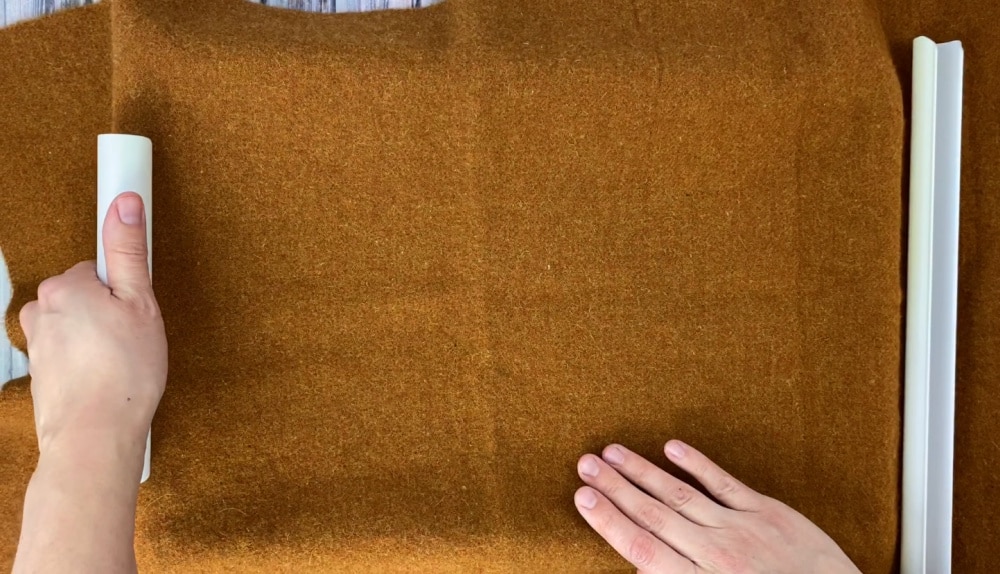 First, stretch your wool fabric into your snap frame or hoop. I used my 11″ x 17″ snap frame and I made sure my fabric was big enough to fit in that without slipping.
It's not going to be quite as tight as monk's cloth normally would, but make it as tight as you can. Luckily it's pretty easy to punch through.
Once it's all snug in the frame, tape the pattern on the back, hold it up to a bright light or window, and trace the design onto the fabric.
It's a little tricky since the fabric is thick, but it's a simple pattern so it's not too bad. I recommend using a contrasting pen color. You can see in the picture above I started with black in but changed to a white gel pen so the letters were easier to see.
Step 2: Punching the words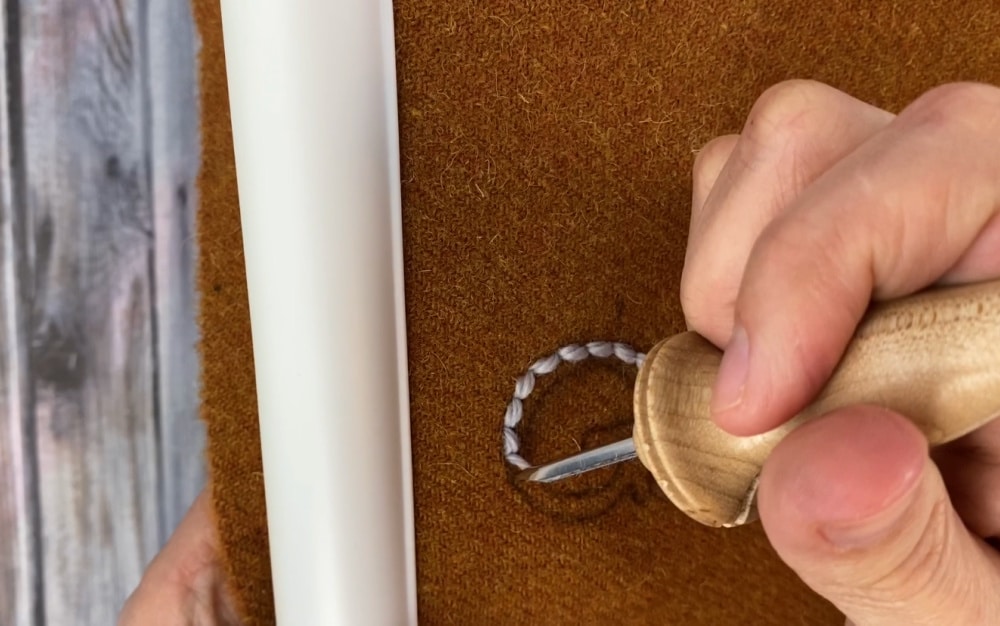 Once you have the pattern all traced, thread the yarn into your punch needle and begin punching the outlines of the letters.
This is a good time to mention that for this pattern, the flat stitch side will be on the front, so you'll actually be punching on the front side of the wall hanging.
Make sure you cover all the pen lines but still stay within the lines so the letter shapes stay consistent.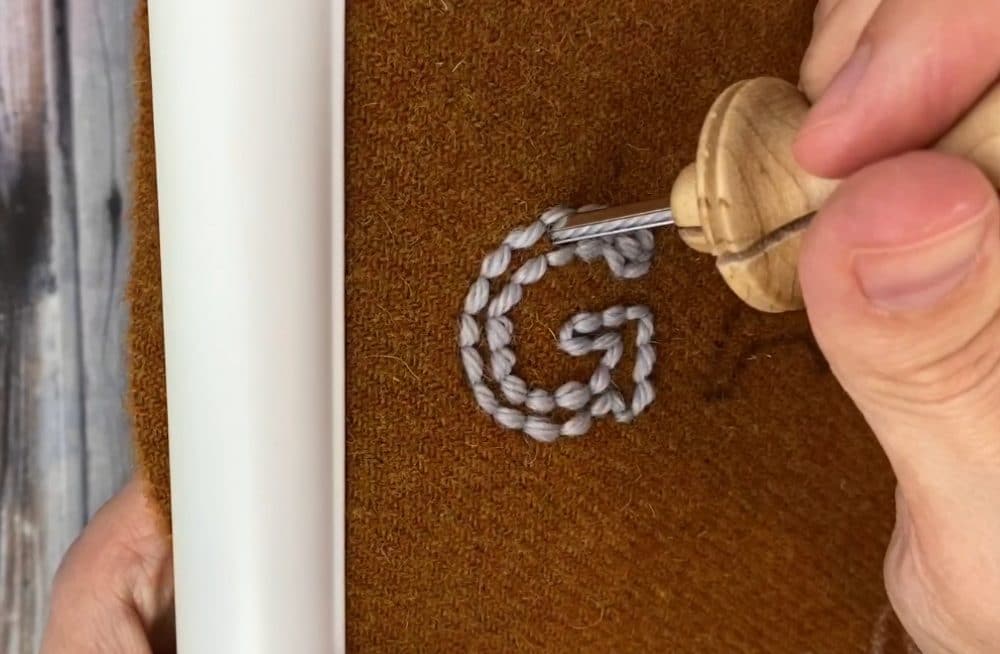 After you get the letters outlined, go in and fill the shapes. Make your stitches neat and even and try not to leave any gaps.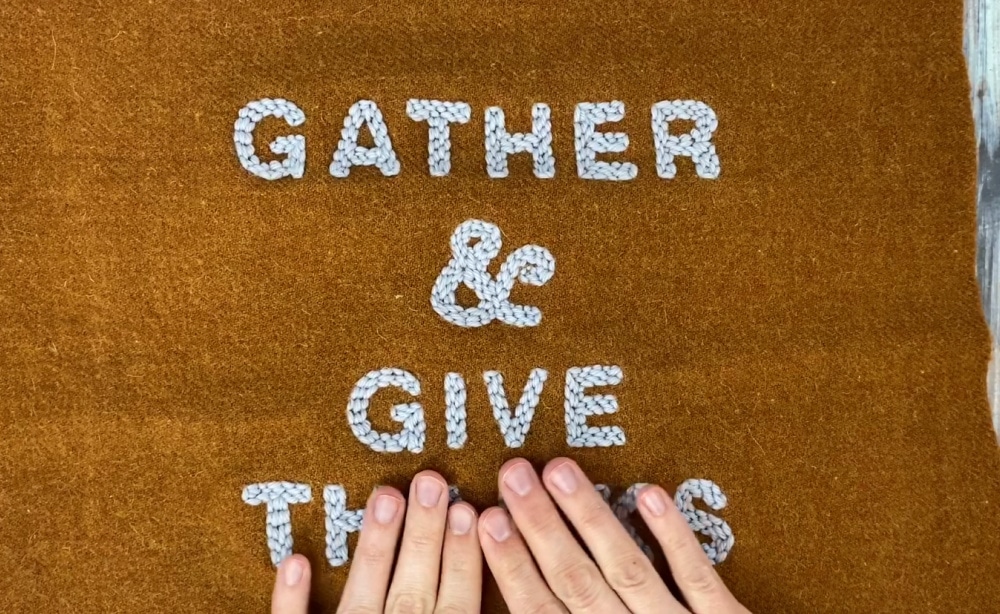 Here's how it looks once you get all the words punched. I'm covering up the word THANKS, but I promise it's there!
Step 3: Making the rod pocket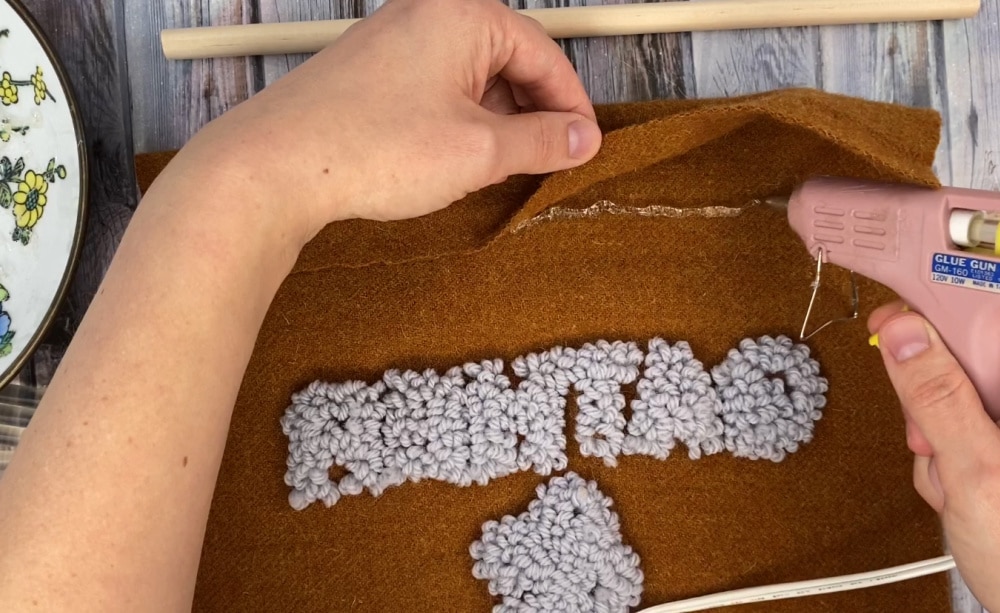 Now we need to make the pocket at the top for the wooden dowel to go in. For this part I decided to keep it easy and use hot glue.
Fold down the top a couple of inches and hot glue in in place.
Step 4: Finishing

Now to finish the sign, measure down from the dowel on each side of the wall hanging and make a mark. I measured down 12″ on each side so there was about 2″ of space under the words before the bottom started to taper.
Then, fold the bottom in half and make a mark right in the center. Now you can use your metal ruler to mark your cutting line from the left to the center and the right to the center.
I used my sharp scissors to cut it, but if you have a rotary cutter it would be super handy right here.
Done!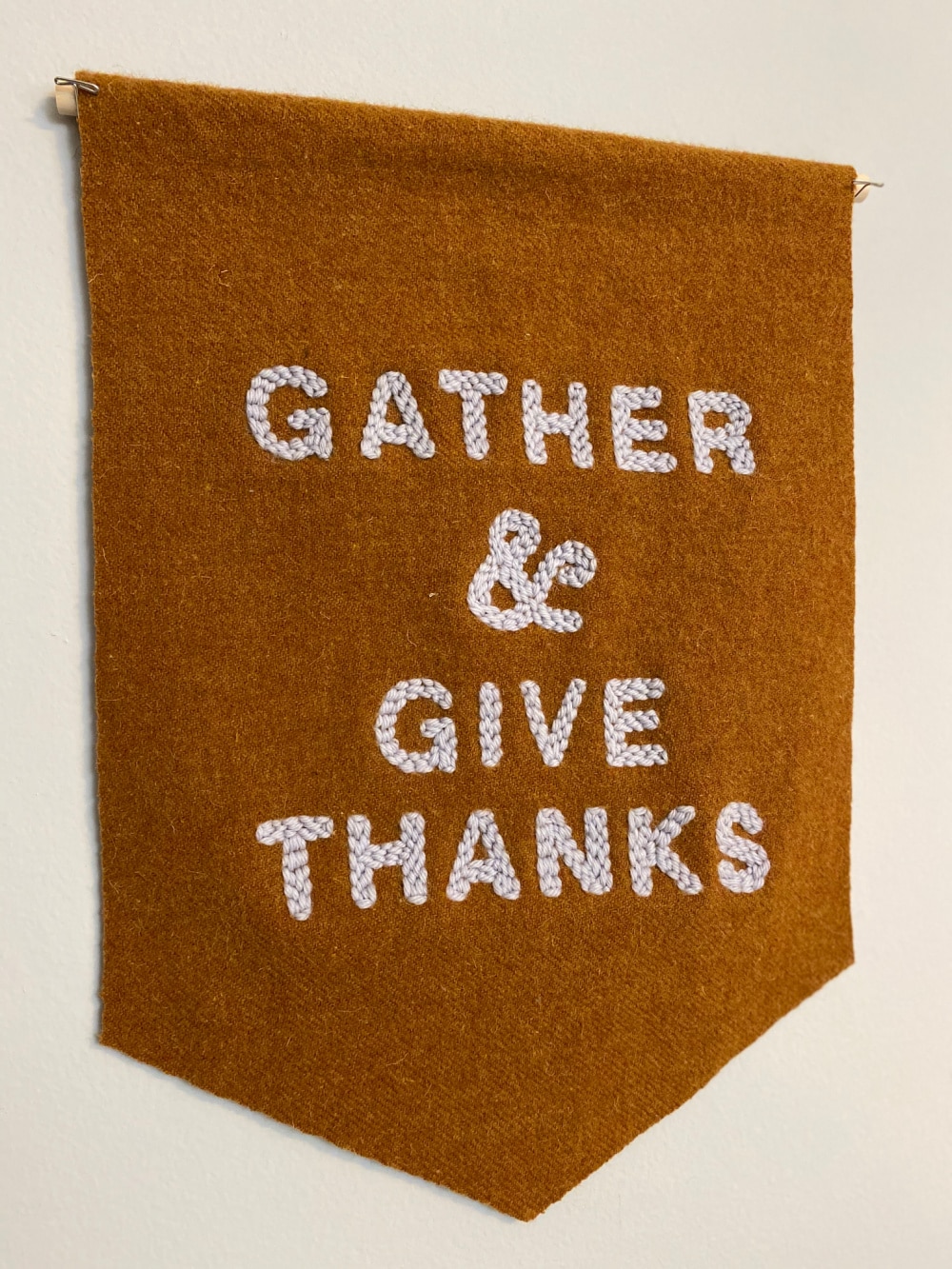 I hope you enjoyed this punch needle wall hanging on wool fabric tutorial! This is a simple project but I think the textures of the materials really make it shine.
If you make this project, please take a moment to share a pic on Instagram and tag me @marchingnorth. I love to see your creations!
Related Posts
Easy Punch Needle Wall Hanging on Wool Fabric // Gather & Give Thanks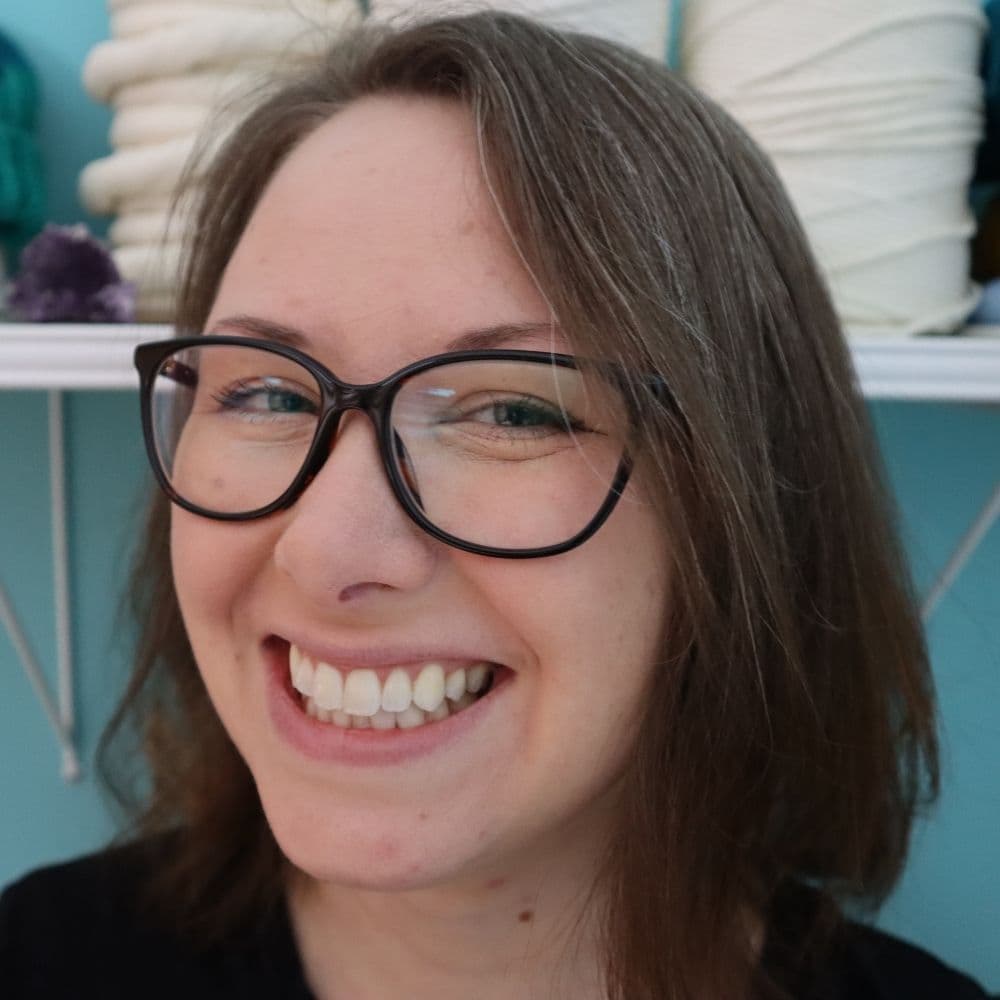 Crystal Martin is the crafty lady behind Marching North. She loves sharing easy to follow tutorials and patterns for macrame, crochet, punch needle, and pretty much anything else involving yarn or textiles.
Her work has been featured on Creative Fabrica, Craft Gossip, Ravelry, as well as her own site and YouTube channels.