So, I was scrolling through Pinterest the other evening with my daughter. A colorful rainbow wall hanging popped up and she said, "that's so cool, can you make one?"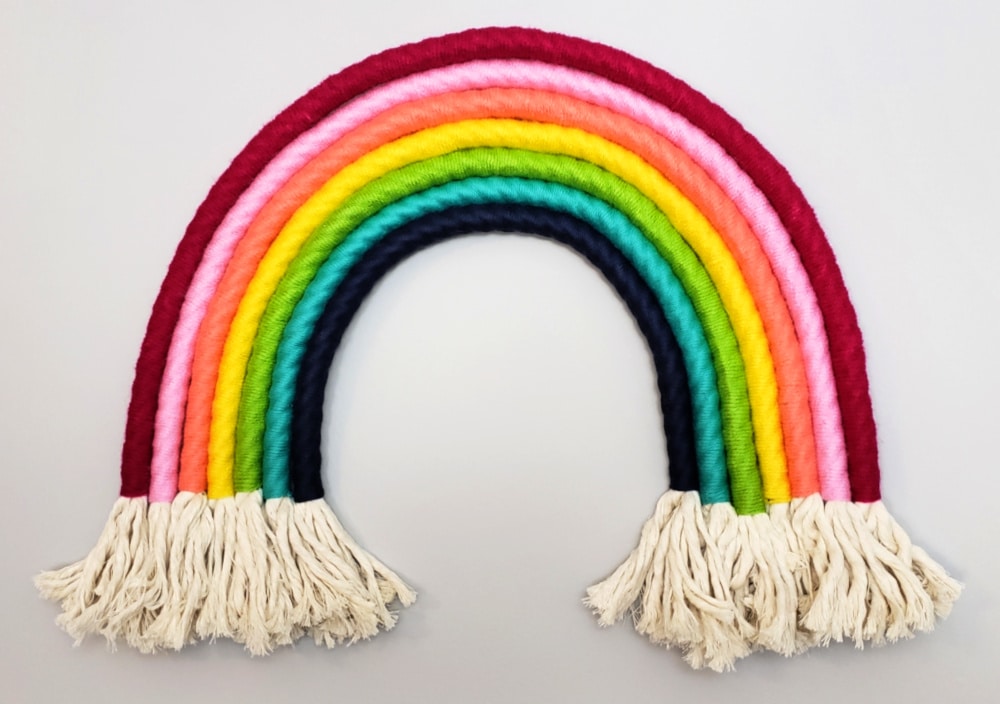 It's hard for me to back down from a crafty challenge, so I said "yeah, I think so!", and here we are.
How to Make a DIY Rainbow Wall Hanging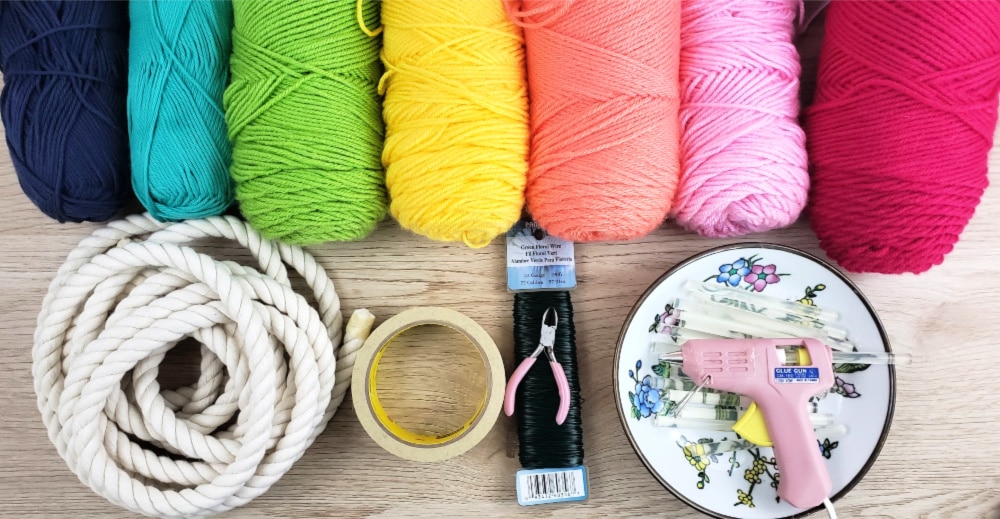 All you need is colorful yarn, cotton rope, and some floral wire, plus a needle and thread and a little hot glue and tape. Oh, and several hours of your time.
While I enjoyed making this lovely rainbow wall decor, it was a little tedious.
The process switched back and forth from meditative to "OMG when will this be done?!?" a few times. I absolutely LOVE how it turned out, though.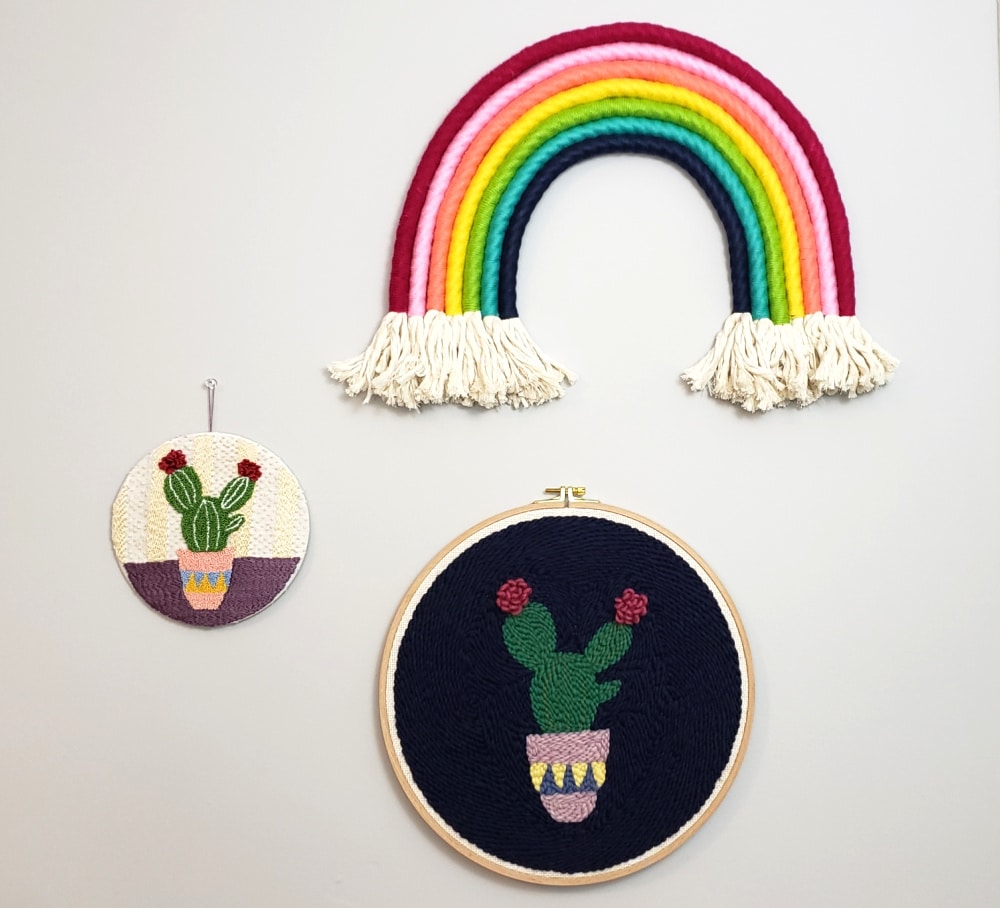 If you're a yarn hoarder like me, this is a great stash buster. I had so many beautiful colors of yarn just sitting there languishing away, who knew?!
Once all was said and done, this rainbow wall hanging took me a good few hours to make. I'm not sure exactly how long because I had to work on it in short bursts between other household mom duties.
Also, it was hard to keep my attention on the wrapping part so I probably dragged it out way longer than I needed to. I started it on Friday and finished it on Sunday.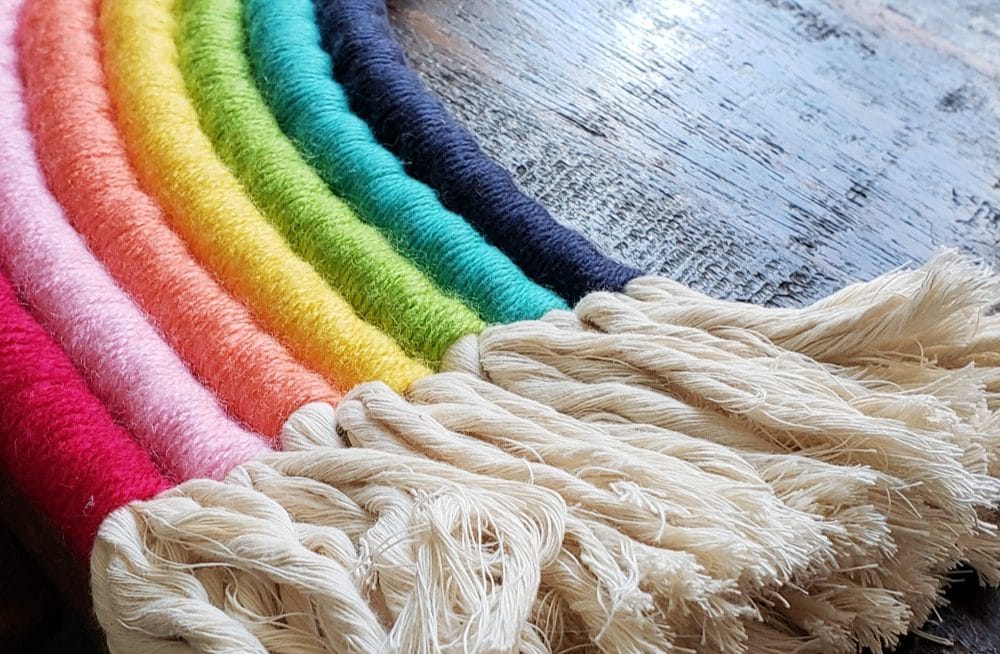 One of the great things about this craft project is it doesn't require any special skills. Just wrap the yarn around a million bazillion times and you're good to go!
If you aren't comfortable sewing the ropes together at the end, you could also try hot gluing them instead. I'm not the neatest hot gluer, so I went the sewing route.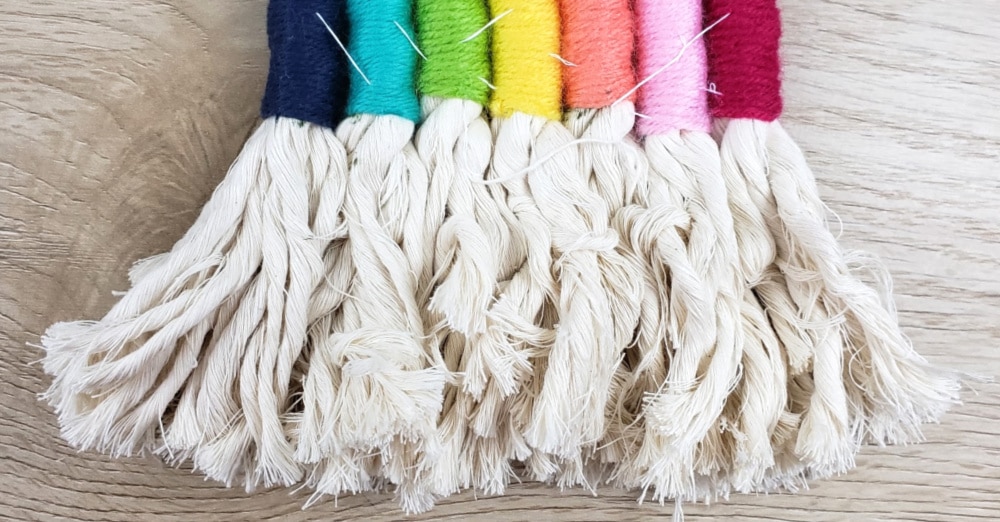 Will I make more of these? I already have the rope cut for a smaller version, so yeah, at least one more.
Honestly, I love the color and texture of these rope and yarn wall hangings so much, I may at least make some little mini ones to stick around the house.
If you want one of these gorgeous fiber art wall hangers but don't have the time or patience to make one, check out this shop that has beautiful rainbow rope wall art for sale. She even does custom orders! Her work is seriously amazing.
I want to give a shout out to this tutorial and this tutorial for giving me some inspiration for this fun DIY project.
Let's get down to business and make this awesome rainbow wall hanging!
(This post contains affiliate links. If you click one and make a purchase, I may receive a small commission at no extra cost to you. Read the disclaimer here. Thank you for your support!)
Supplies You'll Need to Make Your Own Rainbow Wall Hanging:
Related: The Ultimate List of Must-Have Macrame Supplies
How to Make a DIY Rainbow Wall Hanging | Tutorial
Step 1: Decide how large you want your rainbow to be.
I eyeballed mine and folded the rope back and forth to get a feel for the size.
Cut the largest rainbow arc first, and then line the next piece of rope up under it, bend it into the rainbow shape and cut it.
Do that for each piece. Mine were progressively a couple of inches shorter for each row.
Step 2: Mark where you want the fringe to begin.
Line the ropes up so the fringe will be even. Then, mark where the yarn will start and end with a marker.
Step 3: Cut and attach the wire.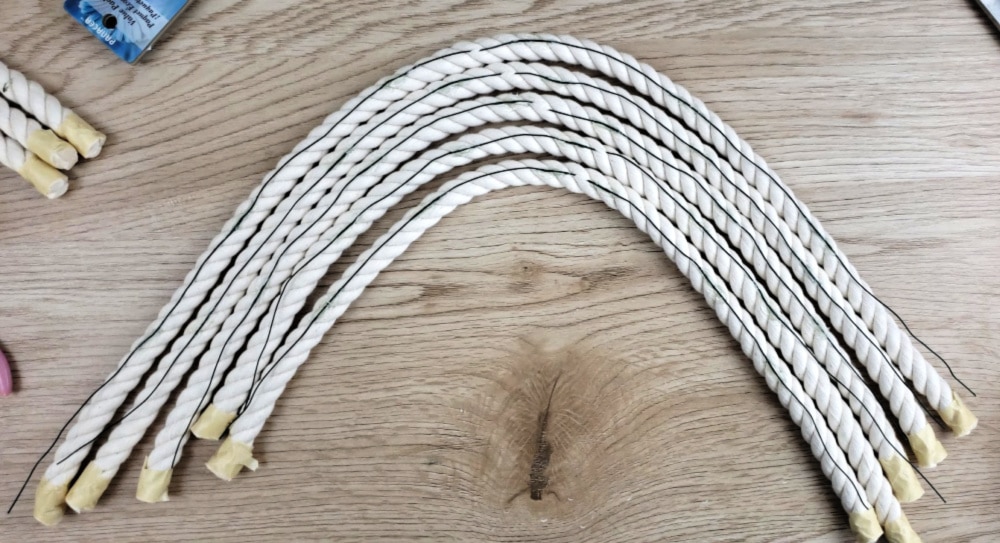 Straighten out the ropes and cut a piece of floral wire that's at least as long as the distance between the two marks you made at each end. It's ok if it's longer, you can cut it off once you're finished wrapping.
To attach the wire, I threaded it through a little bit of the rope right in the middle to anchor it while I glued it down.
Then, apply a small blob of hot glue every few inches to hold the wire to the rope.
It doesn't have to be perfect, it'll all be covered by the yarn. I just didn't want the wire flopping all over the place while I wrapped.
Step 4: Time to start wrapping!
I recommend starting with the longest rope. Hold the end of the yarn down and wrap over it, starting where the first mark is.
If you wrap over the end of the yarn, there's no need to worry about knots or weaving in the end.
Continue wrapping the yarn all the way down the rope. Wrap it tightly and try not to overlap the yarn but make sure you cover the whole rope with no gaps.
I found it easiest to hold the yarn tightly in one hand while twisting the rope with my other hand, instead of wrapping the yarn over and over around the rope. You'll get in a groove after a few minutes.
Once you get to the second mark, tie a knot tightly and use a large blunt-tipped needle to thread the end back down through several rows of wrapping. Trim the end.
Now, do that same process for all the other ropes. (Don't worry, I'll wait.)
Step 5: Sew the Rainbow together.
Once all the wrapping is done, it's time to sew the ropes together.
Start with the smallest and next smallest pieces of rope. Sew them together in a zig-zag pattern.
Make sure you're sewing into the rope and not just into the yarn and pull the thread tight in between each stitch.
If it's hard to get the needle through, use the pliers to help.
Continue sewing all the way around. When you reach the end, tie a secure knot and move onto the next rope.
Stack the next rope and sew it on the same way. Repeat the process until they're all sewn together.
Put some craft glue on any knots you tied while sewing to keep them from coming undone.
Step 6: Make the jute hanger.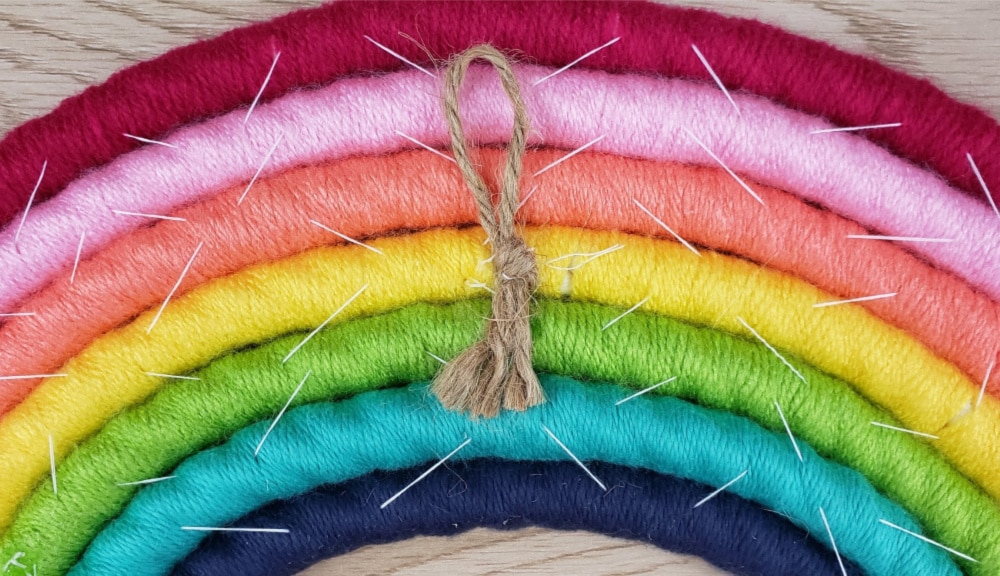 Cut a piece of jute cord about five inches long for the hanger. Double it over and tie an overhand knot.
Place it in the middle of the rainbow and sew into it several times to secure. Just in case, I like to add a little glue as well.
Step 7: Make the fringe.
Lastly, cut and remove the masking tape from the ends.
This was actually a real pain, you can't tell in the video because I sped it up and cut out a lot of footage of me struggling with tape. I'm thinking painters tape would be a better option and come off easier.
Separate all the loose strands and fluff them up a bit. You can even use a comb for this part to get them really separated.
Hang it up and you're done!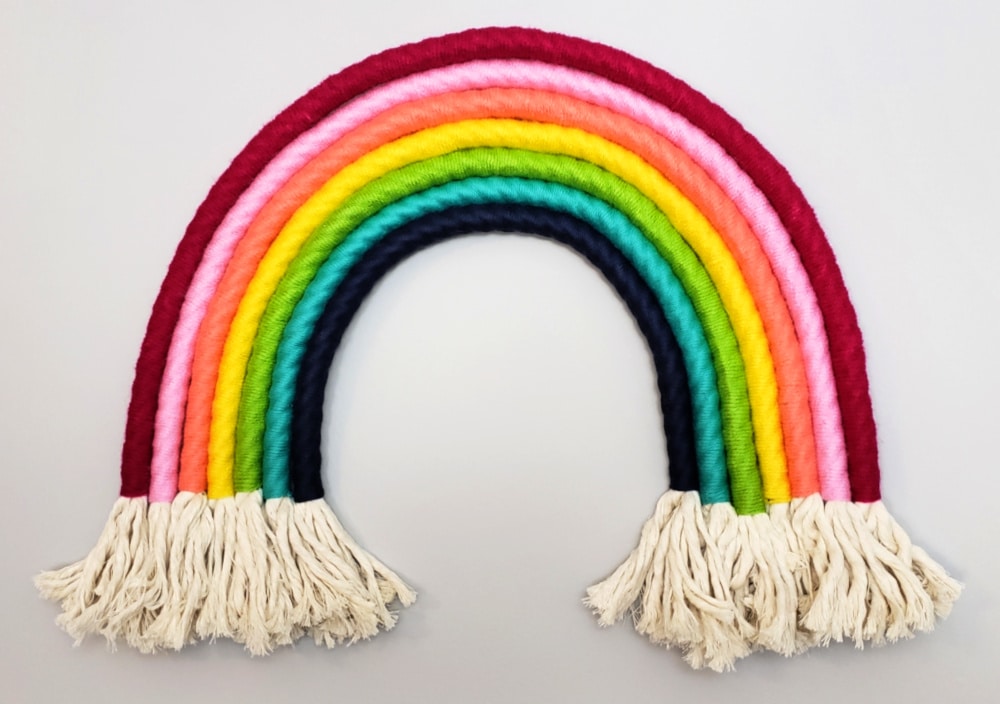 I hope you enjoyed this tutorial and plan on making your own gorgeous DIY Rainbow Wall Hanging soon!
More from Marching North
How to Make a DIY Rainbow Wall Hanging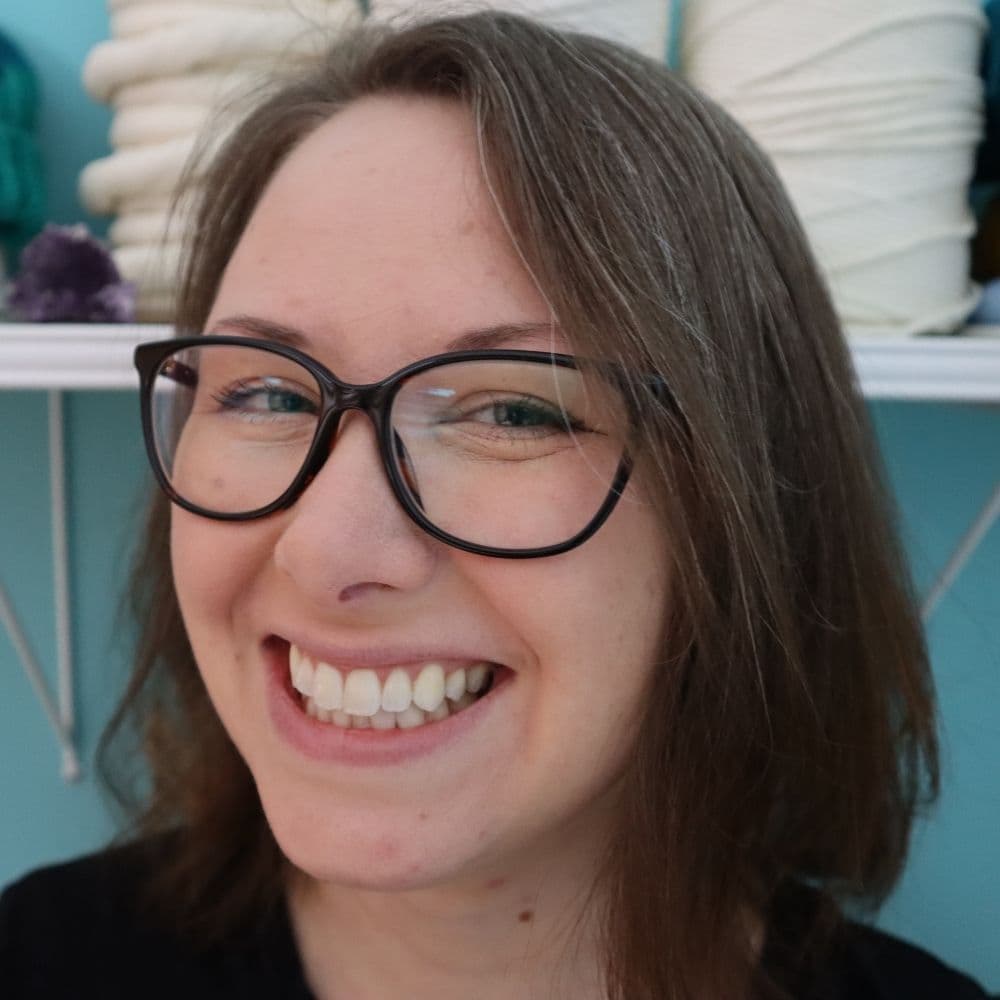 Crystal Martin is the crafty lady behind Marching North. She loves sharing easy to follow tutorials and patterns for macrame, crochet, punch needle, and pretty much anything else involving yarn or textiles.
Her work has been featured on Creative Fabrica, Craft Gossip, Ravelry, as well as her own site and YouTube channels.