Learn how to make a pair of DIY macrame earrings in this easy and quick step by step tutorial!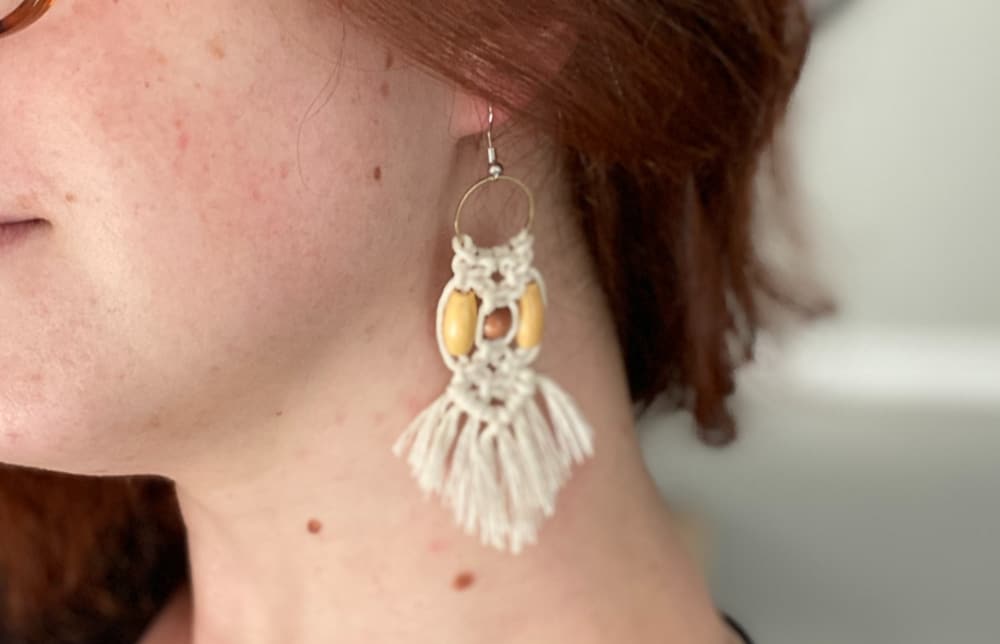 If you need some cute boho chic earrings ASAP, this macrame project is for you. These earrings will be ready to go in less than an hour!
This project is perfect for beginners and only uses a few basic macrame knots. You'll need to know the larks head knot, square knot, and diagonal double half hitch.
Those are some of the most important knots in macrame and you can make SO MANY different designs with just those basic knots!
There are more elaborate ones to learn later, but almost everything you see in macrame is made from square knots and double half hitch knots, so this is a good practice project if you're just starting out.
(This post contains affiliate links. If you click one and make a purchase, I may receive a small commission at no extra cost to you. Read the disclaimer here. Thank you for your support!)
What do you use to make DIY macrame earrings?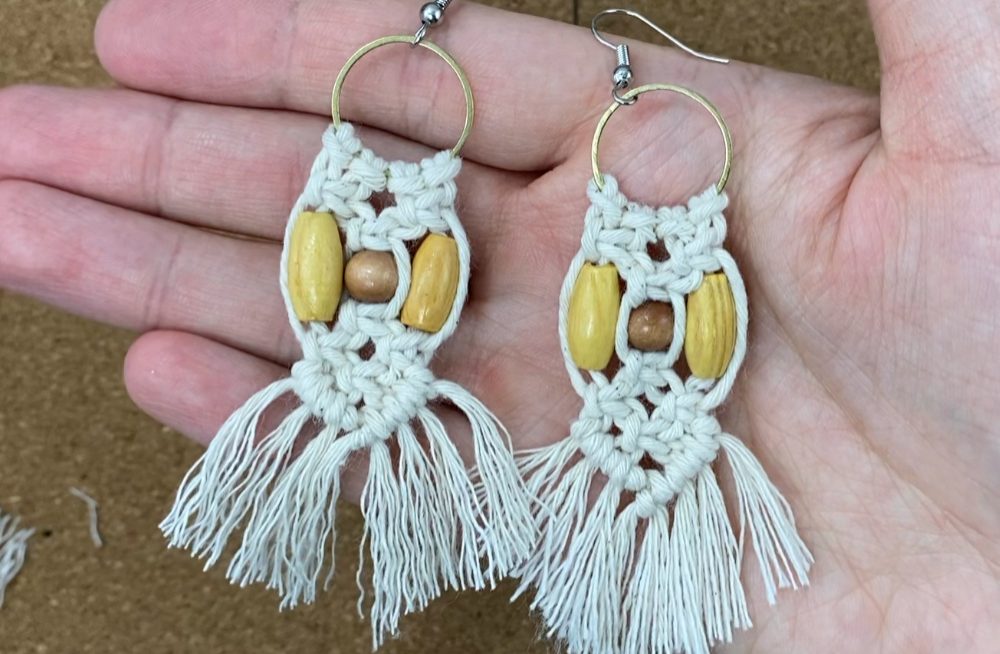 For these earrings, you'll need regular old cotton butchers twine. You can find it at just about any grocery store and also online.
You could also use cotton yarn, or 1 or 2 mm cotton macrame rope if you have it.
Besides that, you'll need six wooden beads with a large hole, two 3/4″ brass rings, two earring hooks, jewelry making pliers, scissors, and a wire bristle pet brush.
If you've ever asked yourself "how do you make macrame fringe so nice and fluffy?", the pet brush is the answer!
For these earrings, it'll make the fringe brushing part a breeze and I definitely recommend getting one if you plan to do very much macrame in the future.
It's also super handy to have a corkboard or a macrame board and T-pins to hold your work. You just need something to hold the earrings in place while you tie your knots.
Related: The Ultimate List of Must-Have Macrame Supplies
// Supplies You'll Need to Make These DIY Macrame Earrings //
// DIY Macrame Earrings Tutorial //
Be sure to subscribe to my YouTube channel for more crafty tutorials and DIYs!
Step 1: Attach the String to the Ring with Larks Head Knots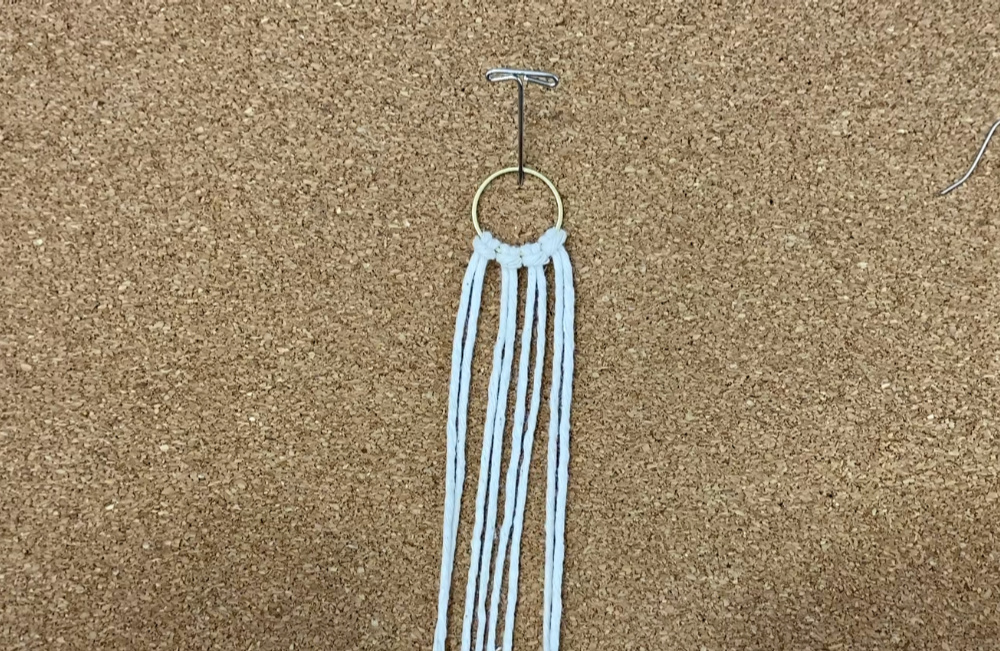 Fold each of the four strings in half and attach them to the ring with larks head knots.
Secure your work to a corkboard, macrame board, or whatever setup you have.
Step 2: Tie Three Square Knots
Tie a square knot with the left four cords, then another one with the right four cords, and then one more in the middle under the first two.
Step 3: Attach the Beads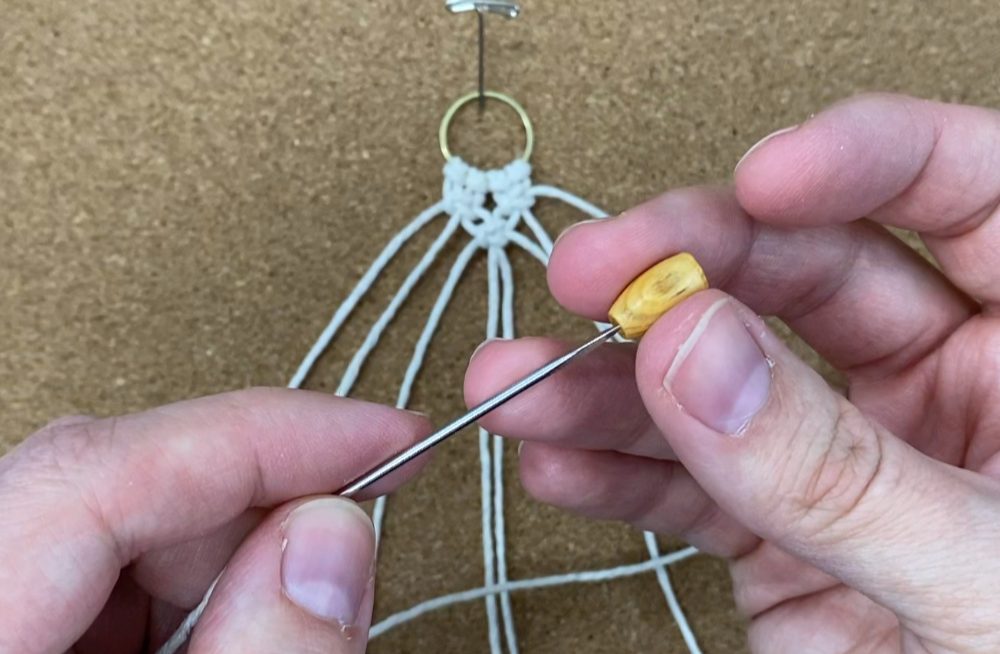 Thread the second cord from the right onto the large needle and string one of the beads onto it. Repeat that with the second cord from the left. I used two long wooden beads here.
Then, thread the center two strings onto the needle and string on the round wooden bead.
Step 4: Tie a Few More Square Knots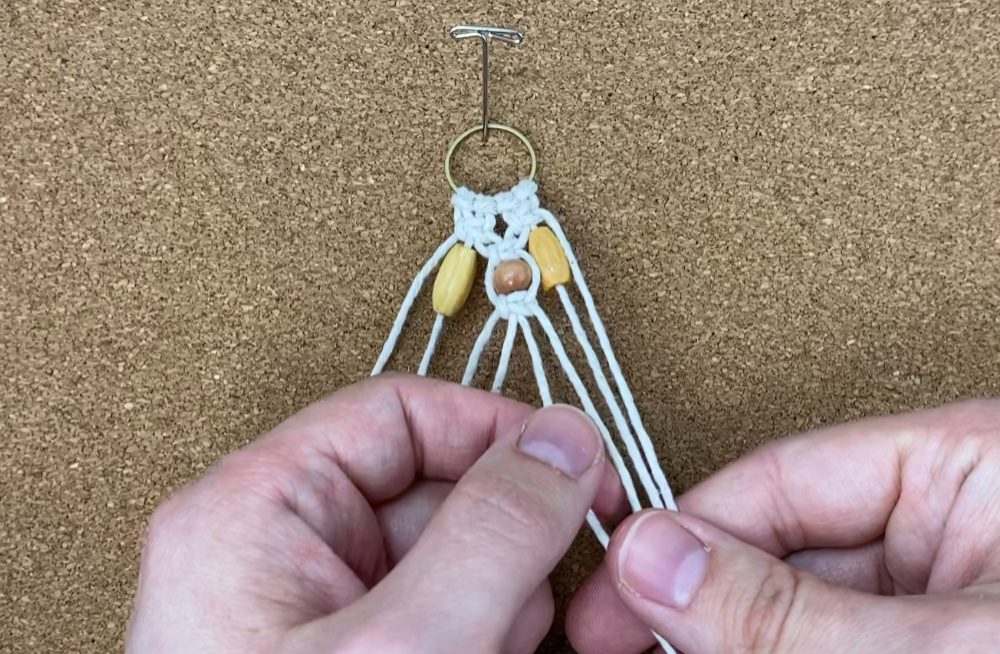 Tie a square knot under the center round bead.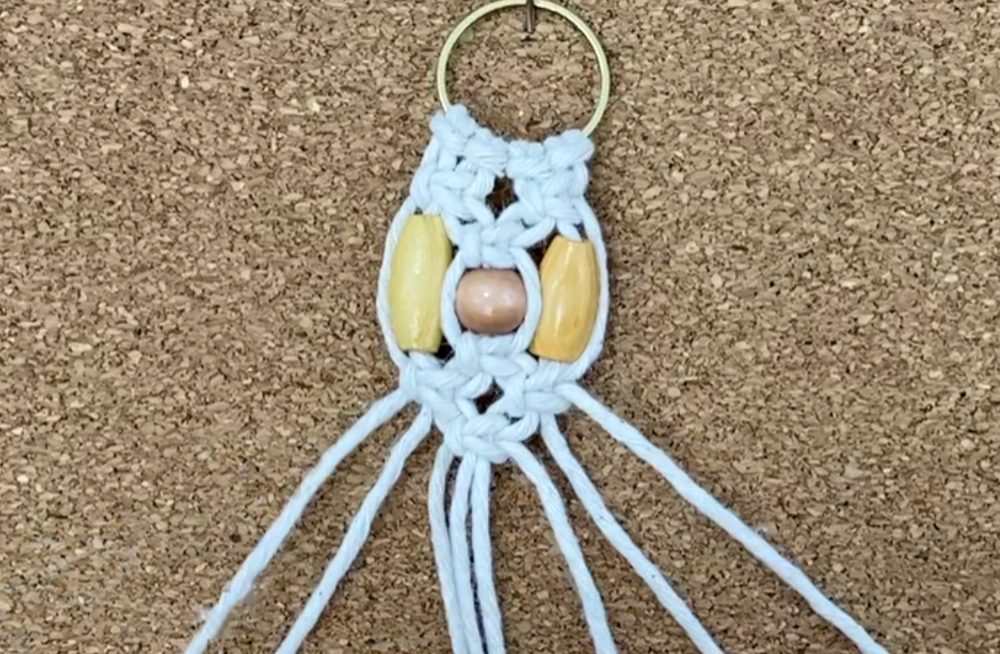 Tie two square knots under the center knot (one on the left and one on the right). Then tie one more square knot in the middle.
Step 5: Tie some Double Half Hitch Knots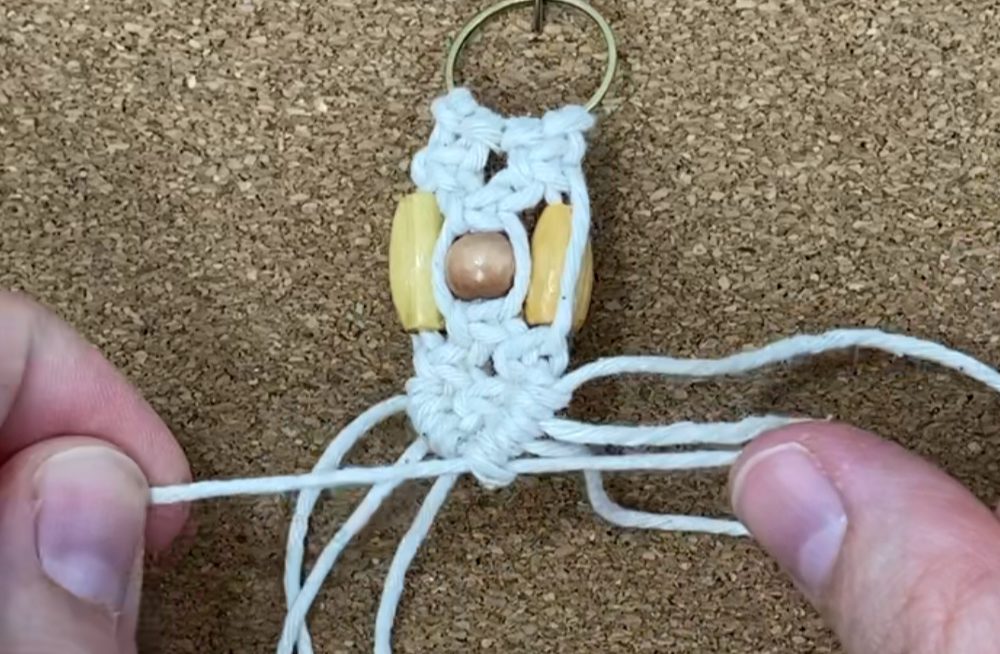 Tie a row of double half hitch knots in a V shape. First, tie three going down the left side, then tie four going down the right side.
Step 6: Trim and Brush out the Fringe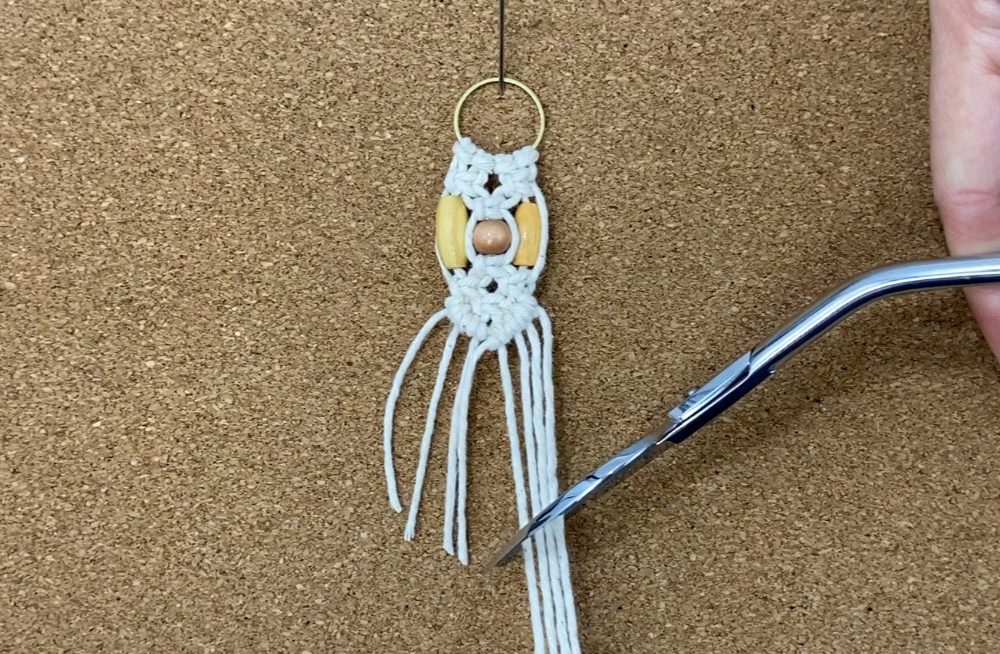 Cut the ends of the string into a V shape to mimic the double half hitch knots.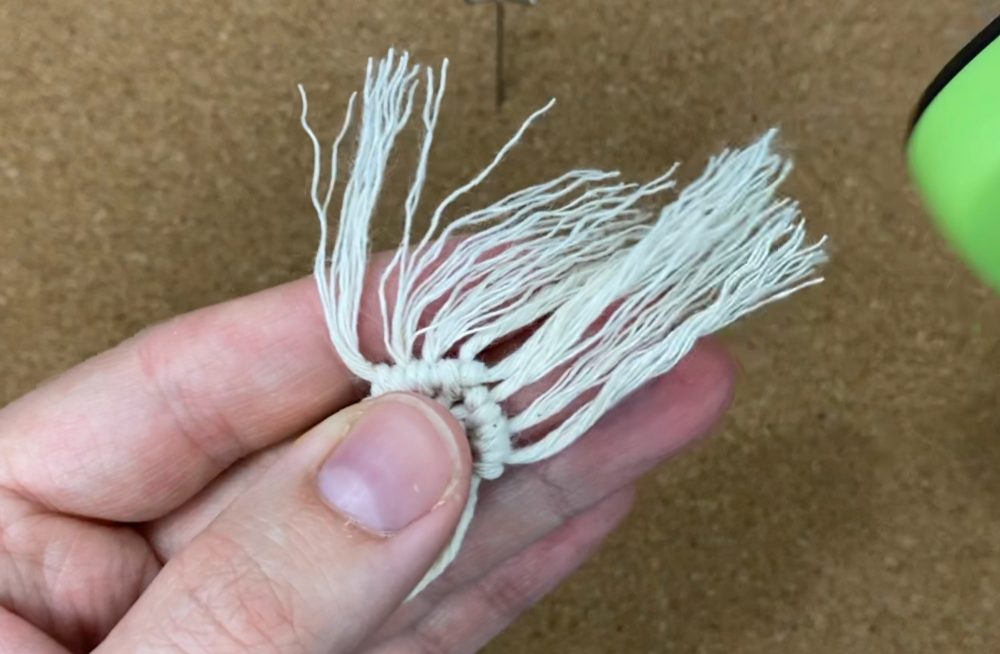 Brush the fringe out. A wire bristle pet brush makes this part go a lot easier.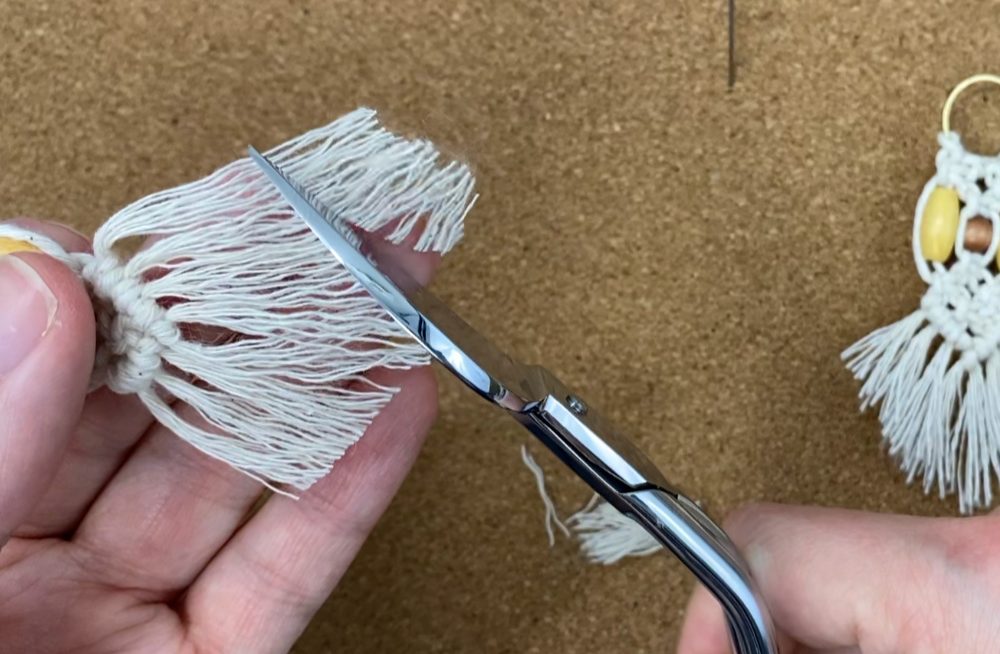 Once you get the fringe brushed out, give it another trim to even it all out.
Step 7: Attach the Earring Hooks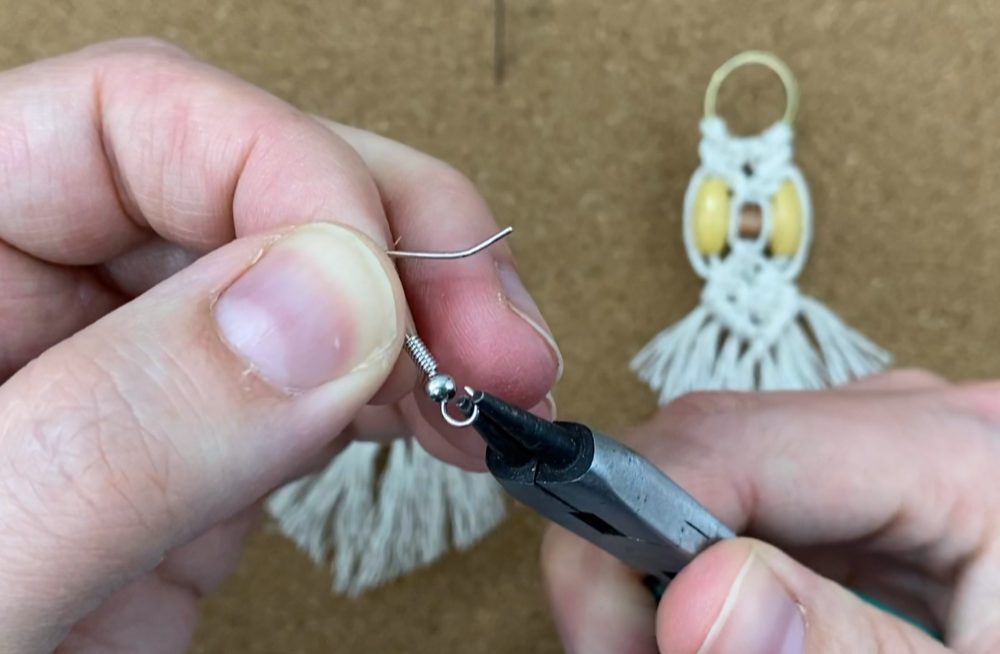 Use a pair of jewelry pliers to carefully open the loop on the bottom of the earring hooks.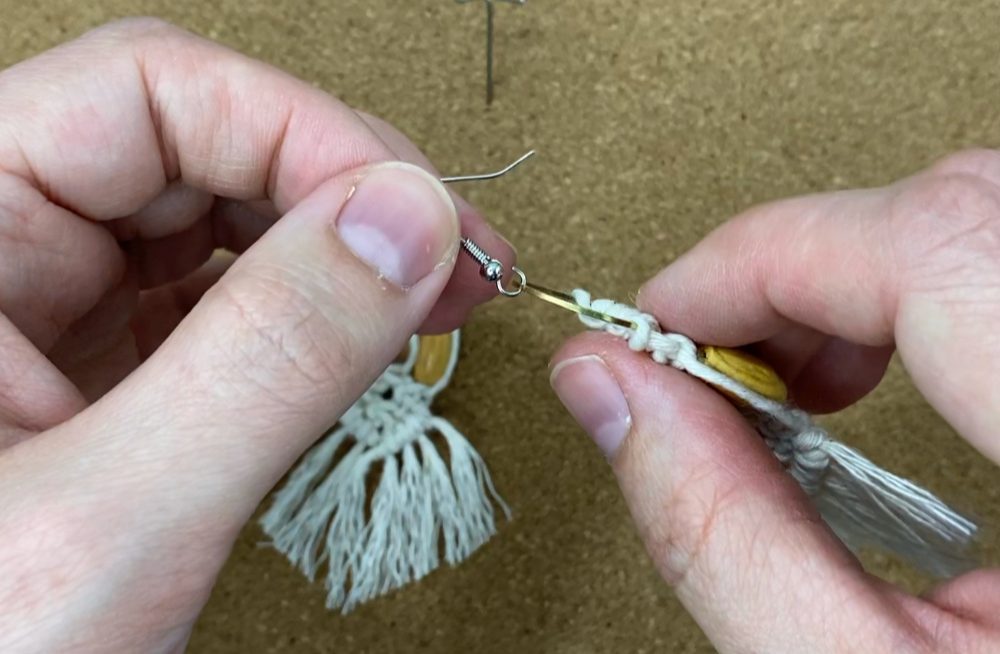 Slide the open loop onto the metal ring and close the loop with the pliers.
Done!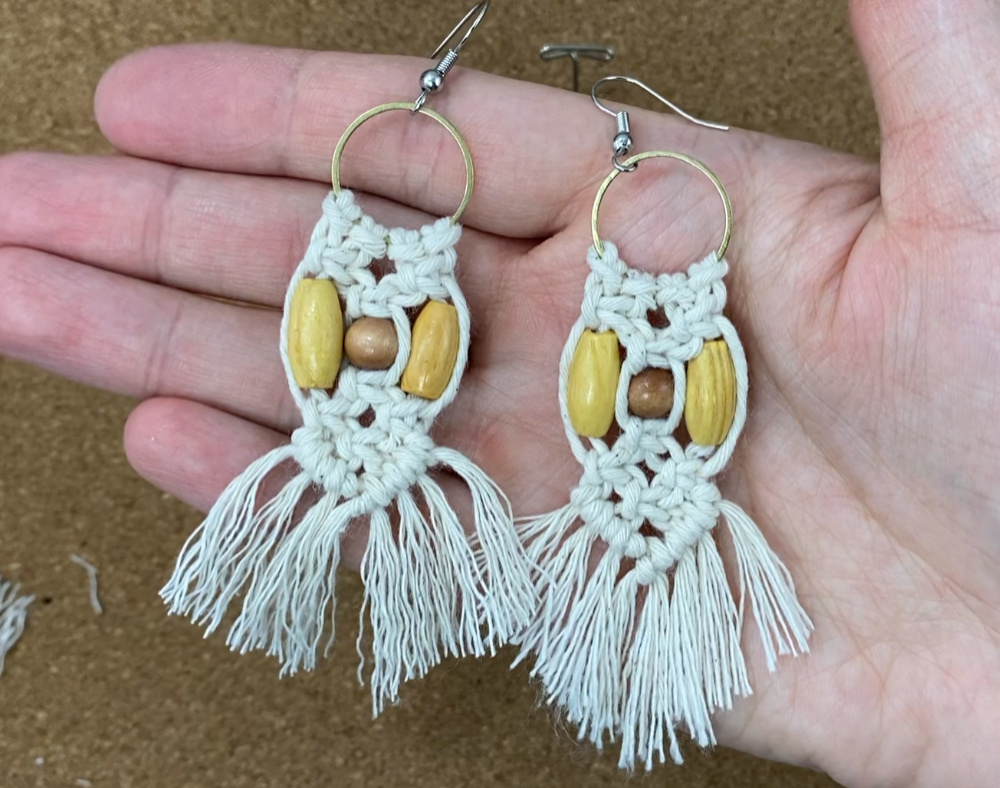 That didn't take long, did it? If you want the fringe to lay a little straighter, use some stiffening spray. Spray it on, brush it and let it dry. Then brush it out again and it may need another trim.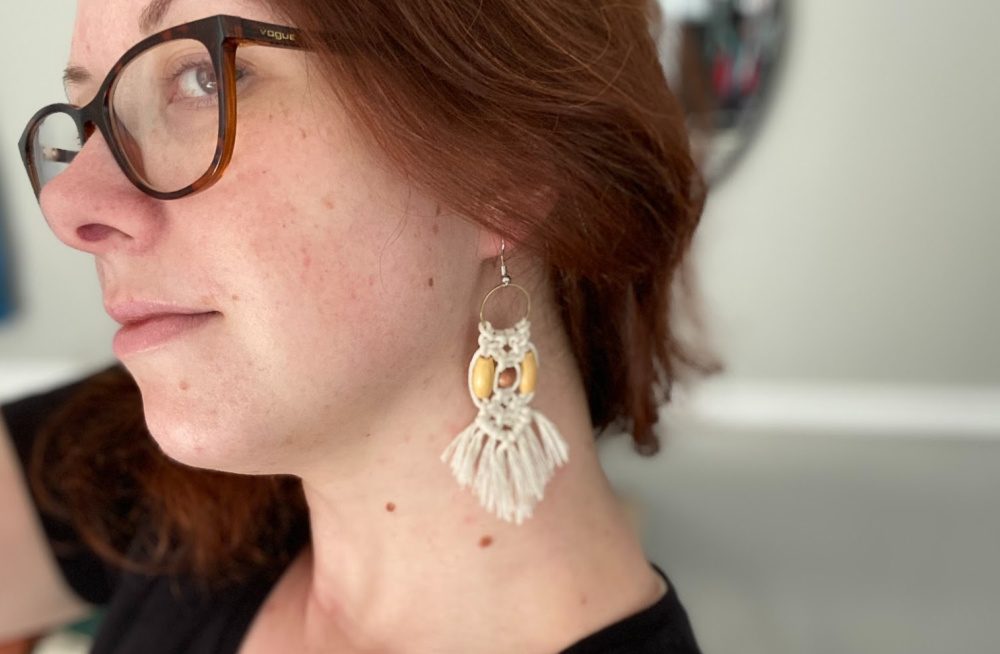 I just love these earrings! So boho-chic and so lightweight and comfortable too.
In Summary
I hope you enjoyed this DIY macrame earrings tutorial.
If you make a pair of these, take a picture and share it on Instagram! Tag me @marchingnorth so I see it and I'll share it on my page too.
For more macrame tutorials, check out the links below. I've got tutorials for plant hangers, a market bag, wall hangings and more!
Related Posts
DIY Macrame Earrings // Tutorial + Video!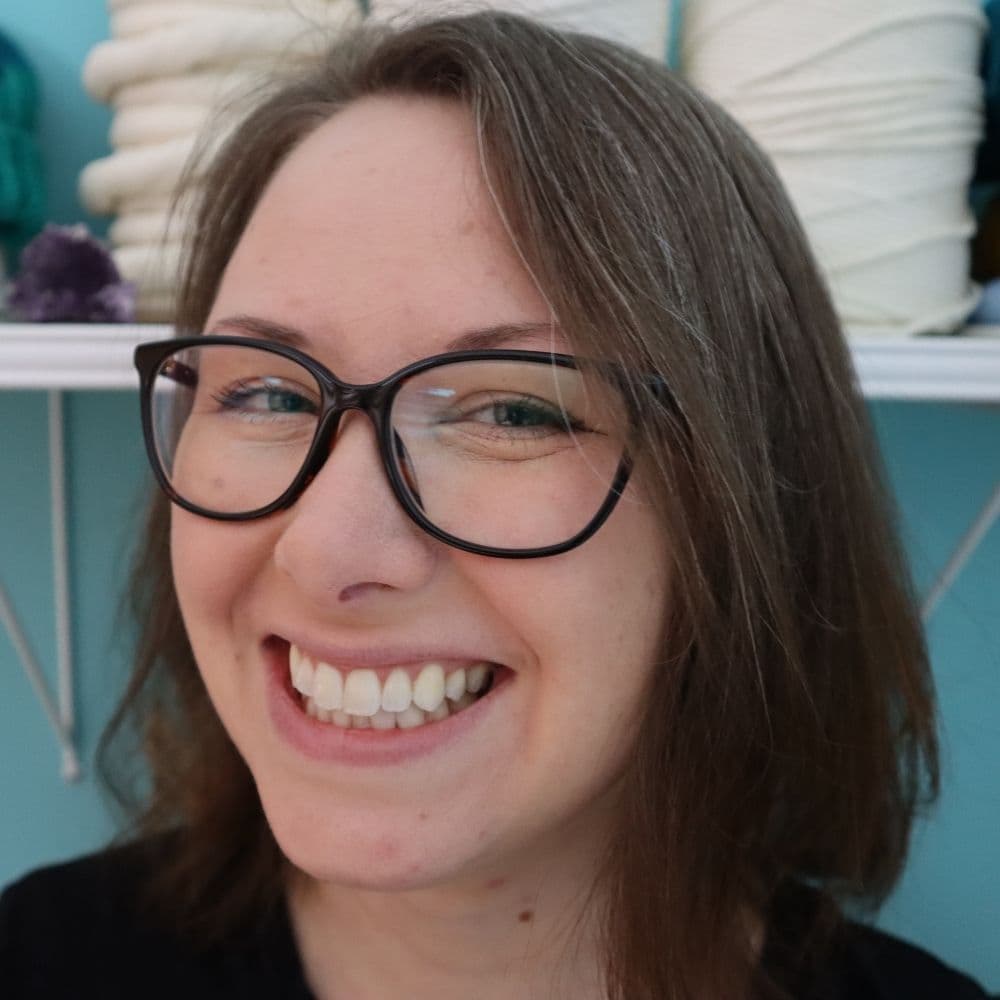 Crystal Martin is the crafty lady behind Marching North. She loves sharing easy to follow tutorials and patterns for macrame, crochet, punch needle, and pretty much anything else involving yarn or textiles.
Her work has been featured on Creative Fabrica, Craft Gossip, Ravelry, as well as her own site and YouTube channels.