Are you looking for some simple free macrame plant hanger patterns? These 27 free tutorials are perfect for beginners and beyond!
Add some boho style and extra greenery to your decor with these easy macrame step by step tutorials.

(This post contains affiliate links. If you click one and make a purchase, I may receive a small commission at no extra cost to you. Read the disclaimer here. Thank you for your support!)
Macrame plant hangers are so much fun to make. Once you get started, it's hard to stop!
The good news is I've gathered up lots of free macrame plant hanger patterns that are perfect for beginners or anyone who wants to make one.
Most of these tutorials include written instructions and a video tutorial, plus a full supply list and links to where you can get everything!

Each of these macrame pot holders are different shapes and sizes, and the one pictured above can be used as a plant hanger or a basket that's perfect for holding fruit in your kitchen!
Hey, while you're here, did you know I have a Facebook group all about macrame?
If you're new to macrame or if you've been knotting for a while, connecting with other macrame lovers is always a great idea!
Come check out our Facebook group, Macrame for Beginners and Beyond. It's a friendly community where you can ask questions, get inspiration, and share your awesome work with other macrame lovers! Come join the conversation today!
Get your copy of 60 Macrame Knots & Knot Patterns eBook today!
Click here to find out more about this helpful macrame knot book that features step by step photo tutorials for 60 different macrame knots and knot patterns!
It's a perfect resource to help you take your macrame creations to the next level.

Before we get started, let me answer some common questions I see about macrame plant hangers.
How Many Yards of Cord Does it Take to Make a Macrame Plant Hanger?
My Chinese crown knot macrame plant hanger takes four pieces of 4mm twisted cotton macrame rope at 11 feet long each.
When I'm creating a new pattern, I usually measure my cord by arm lengths and for a standard plant hanger I start with two arm lengths of cord for each piece. My arm span is roughly 67″ across, so it may be a bit more or less depending on your arms.
After I finish the pattern, then I measure how much cord is left to trim off and subtract that from my starting length to get the finished cord length needed.
Keep in mind many plant hangers will take more or less cord depending on the size and what kind of knots you'll be using to make it.
If you don't want to figure it out yourself, the free patterns linked down below will take out all the guesswork for you!
What Can I Use Instead of Cotton Macrame Cord?
Some other good materials to use for plant hangers are jute, hemp, paracord (especially for outdoor plant hangers), and other synthetic cords.
Just make sure whatever you choose isn't too rough on your fingers and it's sturdy enough to hold your plant.
Can I Use Yarn for a Macrame Plant Hanger?
Yes, you can. You'll want to make sure to pick a strong and sturdy yarn that doesn't stretch. Cotton yarn would be a good option since it doesn't have hardly any stretch.
Another type of yarn I've seen used for plant hangers is tee shirt yarn. It is a little stretchy, but if it's for a lightweight plant I think it would be fine.
I recommend only using yarn for lightweight plants in general.
How Do You Start a Macrame Plant Hanger Without a Ring?
There are several ways to start a macrame plant hanger without a ring!
Check out this video I made showing four ways that I like to start plant hanger that don't require a ring, plus they're extra sturdy.
What is the Best Macrame Cord for Plant Hangers?
My favorite cord to use for plant hangers is twisted cotton rope. I also like using single strand cotton macrame string depending on the pattern.
Twisted cotton rope is more ridged and holds it's shape better, and single strand cotton is super soft and brushes out into gorgeous fringe. It's not a ridged though.
Another option is braided macrame cord which works very well too, I just don't use it as much. While it's nice and strong, brushing out fringe with it is a bit of a nightmare, so keep that in mind!
What Supplies Do I need to Make Macrame Plant Hangers?
Besides cord, there are a few other supplies that it's good to have on hand for all of your macrame projects, including plant hangers.
Alright, now that we answered some questions, let's take a look at the free patterns!
27 Free Step-By-Step Macrame Plant Hanger Patterns
Are you looking for some easy free macrame plant hanger patterns with easy to follow instructions?
These tutorials will show you how to make these simple plant holders step by step with videos and written instructions.
Come take a look!
In Summary
I hope you enjoyed these free macrame plant hanger patterns!
Which one was your favorite? It's so hard for me to pick, I love them all!
If you make one of these, please share it on Instagram and tag me @marchingnorth so I can see it! I love seeing your creations, it really makes my day!
While You're Here, Check Out These Other Macrame Tutorials
27 Free Step-By-Step Macrame Plant Hanger Patterns (with Tutorials & Video!)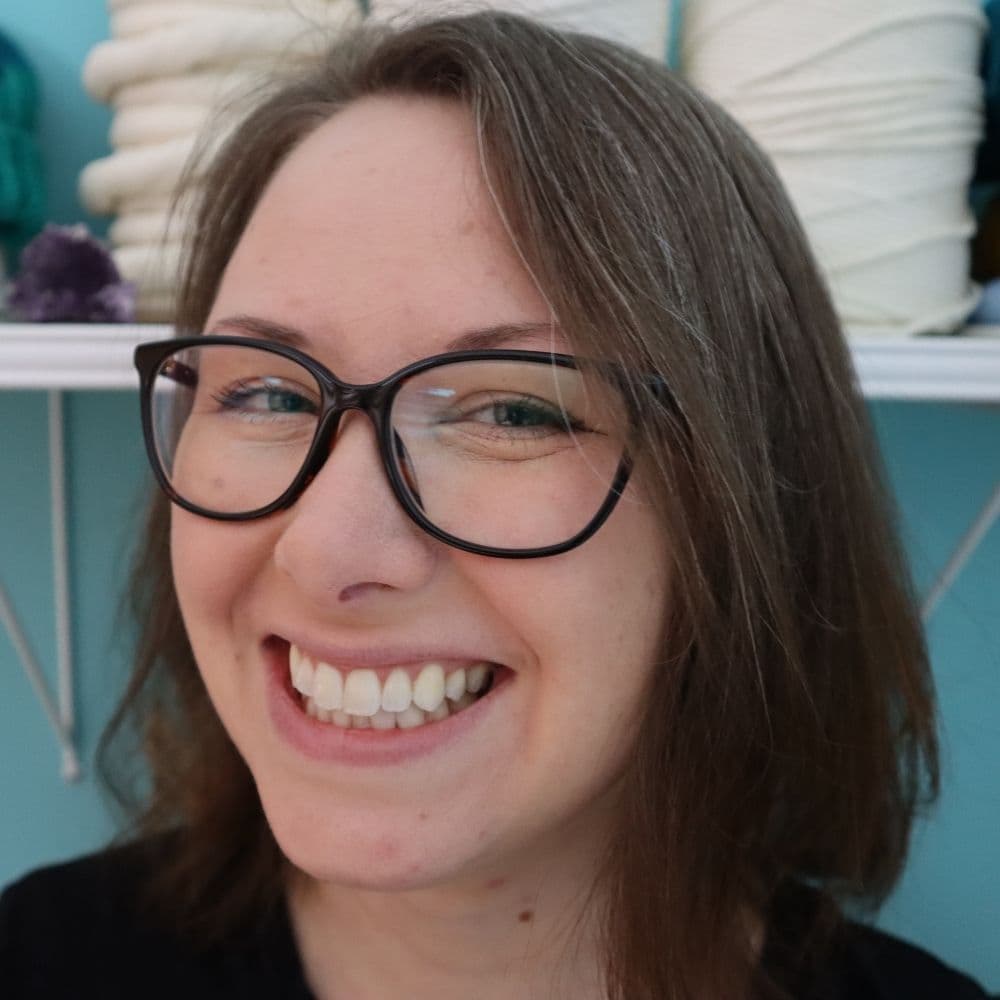 Crystal Martin is the crafty lady behind Marching North. She loves sharing easy to follow tutorials and patterns for macrame, crochet, punch needle, and pretty much anything else involving yarn or textiles.
Her work has been featured on Creative Fabrica, Craft Gossip, Ravelry, as well as her own site and YouTube channels.