Learn how to make the easiest loom knit baby hat ever in this step by step free pattern and video tutorial!
Want to remember this? Post this Easy Loom Knit Baby Hat tutorial to your favorite DIY Pinterest board!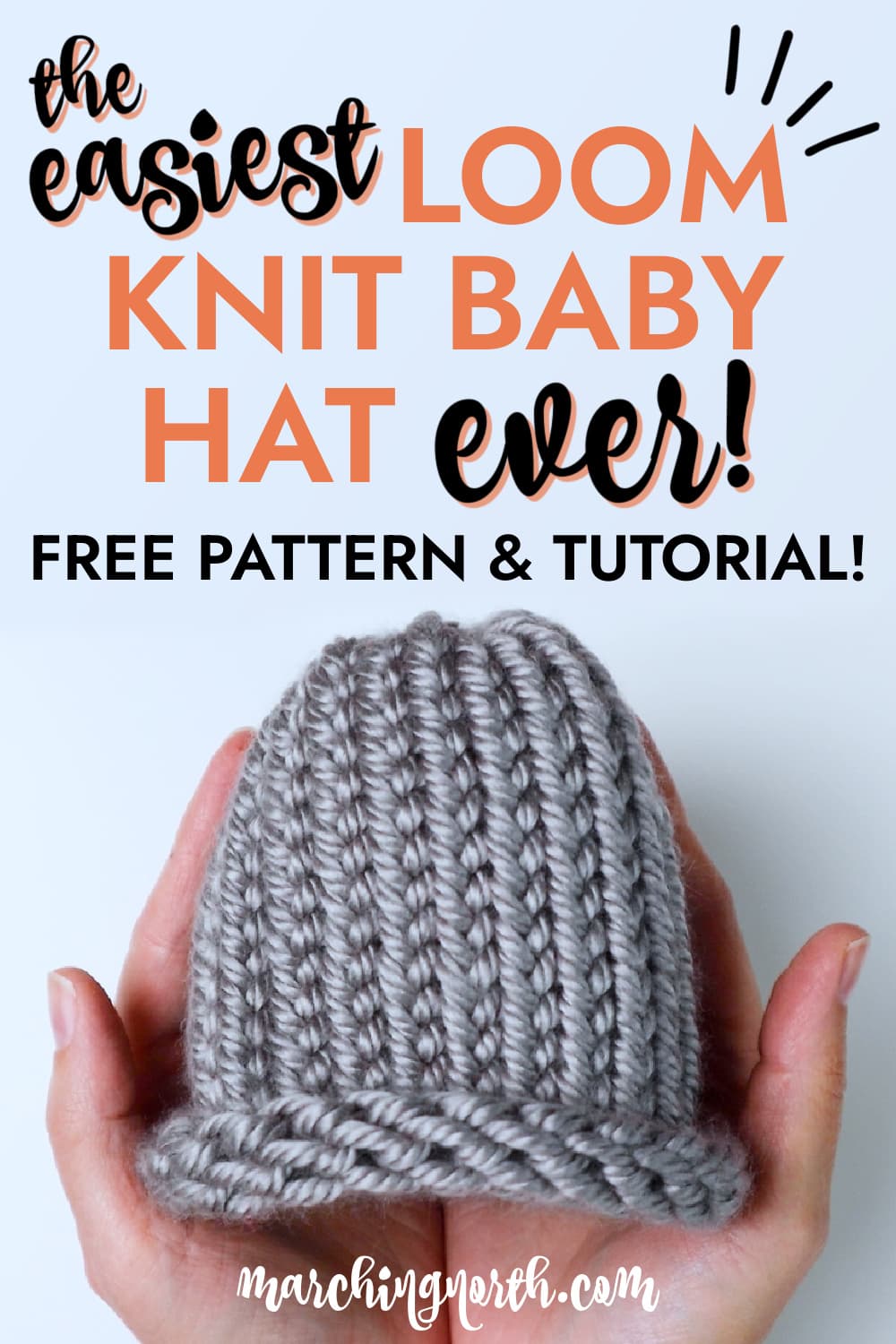 (This post contains affiliate links. If you click one and make a purchase, I may receive a small commission at no extra cost to you. Read the disclaimer here. Thank you for your support!)
A while back I uploaded a tutorial showing how to loom knit a baby hat with a ribbed brim, and today I have an even easier version to share with you.
This is a super simple pattern that you can make even if you've never picked up a knitting loom before. Seriously!
All you'll need is a round loom (either a 24-peg loom or a 36-peg, depending on the size you're going for), the hook that goes along with it, and some bulky yarn.
You'll also want to grab a yarn needle, stitch marker, and a pair of scissors and you're off to the races!

This loom knit hat design is perfect for a newborn or preemie baby because the rolled brim is nice and soft, plus it's plenty stretchy.
You can have one of these hats done in absolutely no time, honestly it takes about an hour tops if you work straight through.
The 24 peg version works up so fast, I bet it could be done in 15 minutes! Don't quote me on that though.
Loom Knit Baby Hat Sizing
I sort of eyeballed the sizing on these hats based on my kiddos head sizes when they were little.
If you're making this hat for a little preemie, I'd recommend using the 24 peg loom and maybe even doing a few less rows than I did.
Here's a chart of general baby hat sizes:

The 24 peg loom with 20 rows made a baby hat that was 5″ in length and about 12″ around.
The 36 peg loom with 25 rows made a hat that was about 7″ in length and about 16″ around.
These hats stretch a decent amount so keep that in mind as well.
If you want to make a more slouchy hat, just add a few more rows.
And if you want to make this same type of hat in adult sizes, just move up to the 48 peg loom and I would probably recommend somewhere between 30 and 40 rows.
I also have a few other loom knit hat patterns you can check out right here:
Best Yarn for a Loom Knit Baby Hat
For this baby hat pattern, I used Lion Brand Hometown yarn in the color Dallas. It's a nice neutral gray color.
I love this yarn because it works up super fast and is the perfect size for the large gauge knitting looms.
It's nice and soft, and since it's 100% acrylic it's easy to wash and care for.
If you want to substitute another yarn, just look for size 6 bulky and it should work pretty well. Here are a few of my favorites:
I used one color for these hats, but you could switch it up and use different colors to get a different look. Check out this tutorial for instructions on how to change colors while loom knitting a hat.
Alright, now that we've covered all the bases, let's get started!
Supplies You'll Need
Materials
Tools

Kb Chunky Round Knitting Loom Set
This loom knitting set works with chunky yarn and is perfect for making hats, gloves, and slipper socks!
Buy Now
We earn a commission if you make a purchase, at no additional cost to you.
12/08/2023 07:35 am GMT
Easiest Loom Knit Baby Hat Pattern
Check out the video tutorial from my YouTube channel Yarn Stash with Marching North. Click here to subscribe!
Step 1: Slip your stitch marker one one of the pegs. This will be your starting peg from here on out.
Make a slip knot in the end of your yarn and attach it to the starting peg you just marked.

Note: The type of loom I'm using doesn't have an anchor peg, but if yours does you can skip using a stitch marker and just attach your yarn to the anchor peg. You would make your first stitch on the peg to the left of the anchor peg.
Wrap the yarn around the peg to the left of the starting peg in a counterclockwise motion. This is called the e-wrap method.

Continue e-wrapping around each peg until you get back to the first peg. There will be one loop on each peg, and the first peg will just have the slip knot on it.
Another note: you can go around the loom to the left or to the right, it really doesn't matter.
The most important thing is that once you choose a direction, you stick with it. If you decide to go around to the right, you'll be wrapping around the pegs clockwise instead of counterclockwise.
Step 2: Push the loops down to the bottom of each peg, and then make another pass wrapping each peg above the first loop.

Once you have two wraps on each peg, take the hook and pull the bottom loop up over the top loop and off of the peg.

I like to start with the last peg that I wrapped so the yarn is held in place while I'm knitting around. Otherwise they can start unwrapping on you and that's no fun! Then I continue around in the direction I was wrapping.
Do that all the way around with each peg.
You've now made an e-wrap cast on row which counts as row 1.
Step 3: Continue knitting e-wrap rows that same way until you have 20 rows all together if you're using the 24 peg loom, or 25 rows if you're using the 36 peg loom.
Since the cast on row counted as row 1, you'll want to knit 19 more rows for the 24 peg, or 24 more rows for the 36 peg.
You can always add or subtract rows to alter the size a bit as well.
Step 4: Now it's time to take the hat off the loom and finish it up. Wrap the yarn around the loom once, plus a little extra. This will give you enough yarn to finish off the top.

Thread the end of the yarn onto your yarn needle. Bring the needle up through the first stitch and then pull the loop off the peg.

Repeat that with the next peg to the left and all the rest until you get to the last peg and the hat is off the loom.
Pull the end of the yarn to cinch up the top of the hat.

Sew through all the stitches around the circle one more time, pull the yarn really tight and tie a knot.

I like to make sure and pull the knot under one of the stitches next to it so there isn't a rough spot on the top of the hat.
Step 5: Weave the end of the yarn that's on your needle under several stitches and cut the excess yarn.

Now find the other end of the yarn from the brim of the hat and weave it under a few stitches on the inside of the hat.
Cut the excess yarn and your hat is complete!

Done!
If you want to jazz up this cute little hat a bit more, you could add a pom pom to the top!

Check out these easy tutorials if you want to do that, or just leave it as it is:
In Conclusion
I hope you enjoyed this super easy loom knit baby hat pattern and tutorial!
If you make one of these, please share a pic over on Instagram and tag me @marchingnorth so I can take a look. I love seeing all of your awesome creations!
More Loom Knitting Tutorials
Easiest Loom Knit Baby Hat (Free Pattern!)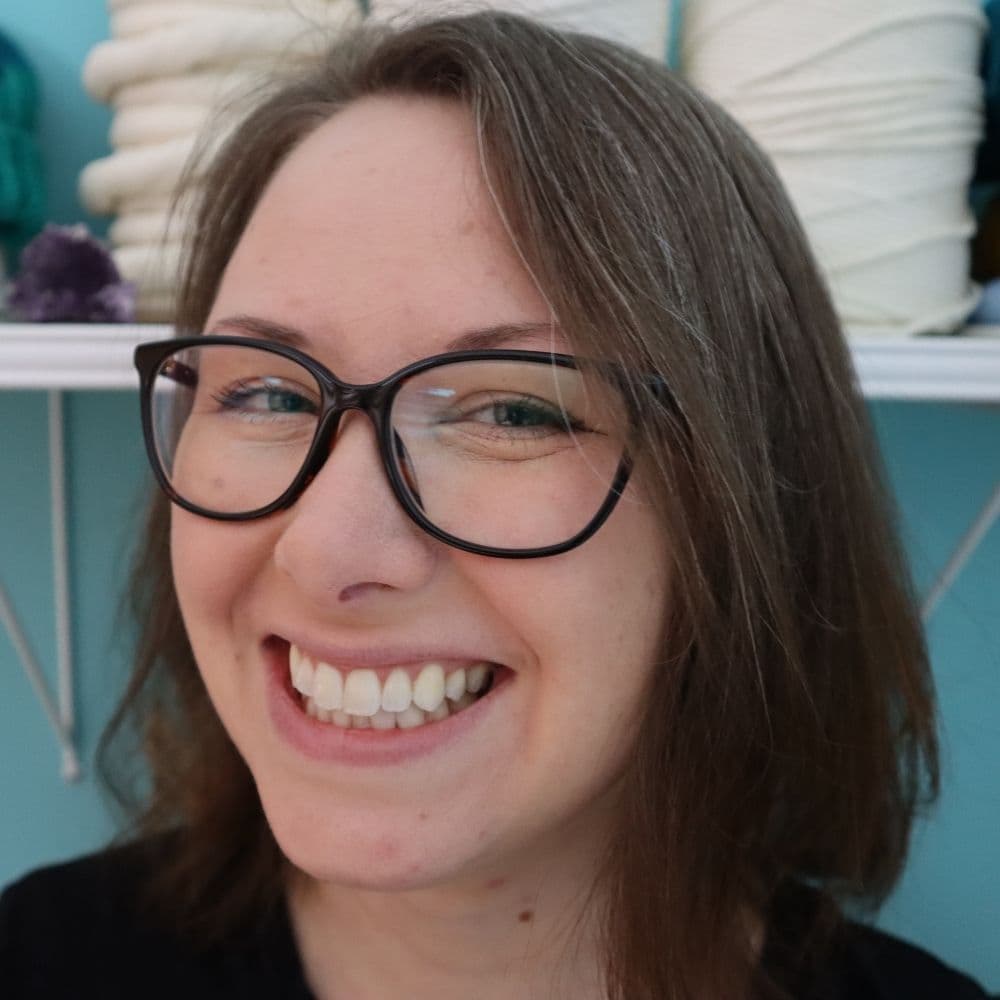 Crystal Martin is the crafty lady behind Marching North. She loves sharing easy to follow tutorials and patterns for macrame, crochet, punch needle, and pretty much anything else involving yarn or textiles.
Her work has been featured on Creative Fabrica, Craft Gossip, Ravelry, as well as her own site and YouTube channels.