This DIY macrame clutch purse pattern is super simple and elegant! The contrasting stripe made with vertical double half hitch knots really makes it pop. Come check out this easy (and free) step by step macrame tutorial!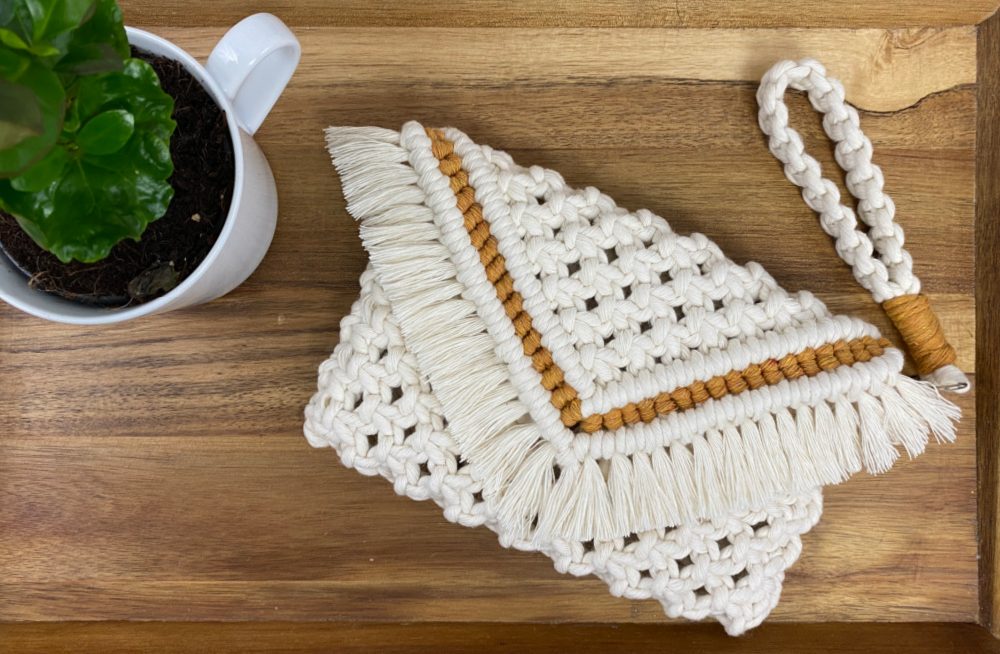 (This post contains affiliate links. If you click one and make a purchase, I may receive a small commission at no extra cost to you. Read the disclaimer here. Thank you for your support!)
How do you make a macrame purse? Easy! Just follow the simple tutorial below and I'll show you how!
I've been wanting to make a DIY macrame purse tutorial for a while now. Several of you guys have requested one and it just looked like such a fun project.
Normally, I have a really hard time making the same project more than once (you won't see me knitting socks any time soon). But this purse was actually so fun and easy, I could totally make more and even enjoy it!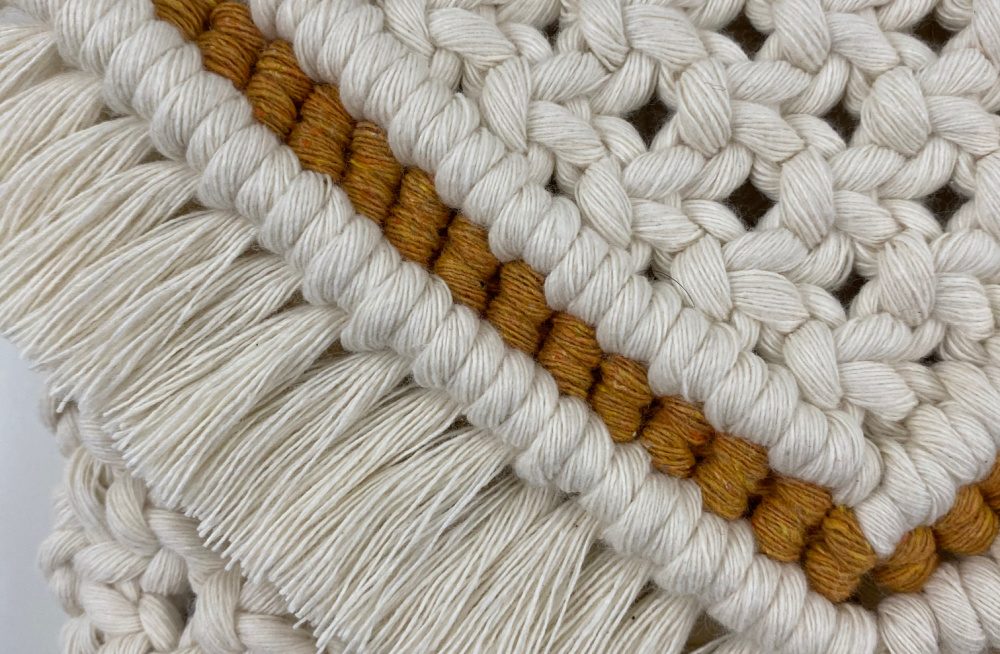 The natural cord I used for this macrame purse was 4 mm single strand cotton from Ganxxet and OMG… I'm in love!
It's got to be the softest macrame cord I've ever used. Plus, it's eco-friendly, so you can feel good about your purchase in more ways than one!
If you're new to macrame or if you've been knotting for a while, connecting with other macrame lovers is always a great idea!
Come check out our Facebook group, Macrame for Beginners and Beyond with Marching North. It's a friendly community where you can ask questions, get inspiration, and share your awesome work with other macrame lovers! Come join the conversation today!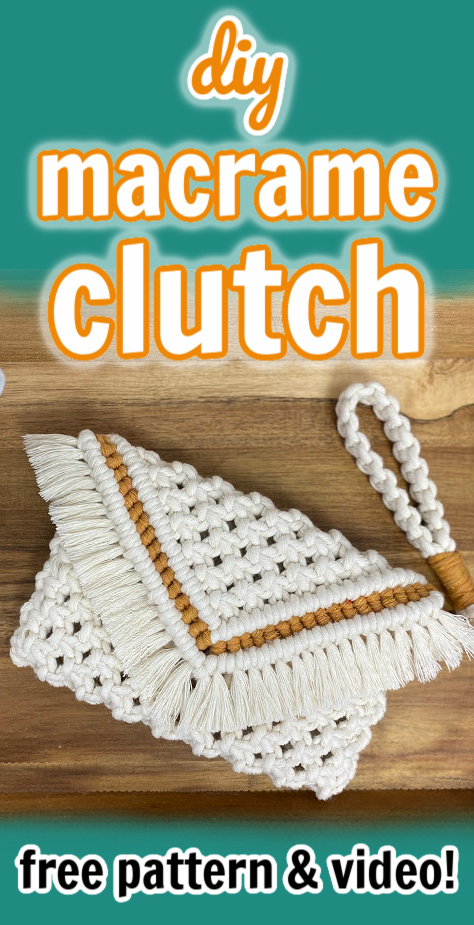 The tutorial below will show you how to make this purse from start to finish. If you want to add the optional strap, follow this macrame wristlet keychain tutorial using the same colors of cord that you use for the bag.
OK, let's get started!
Supplies You'll Need to Make a DIY Macrame Clutch Purse
Check out the optional wristlet strap tutorial here!
Related: Must-Have Macrame Cord & Supplies (and Where to Find Them!)
Macrame Clutch Purse Tutorial
Step 1: Attach the working cords to the holding cord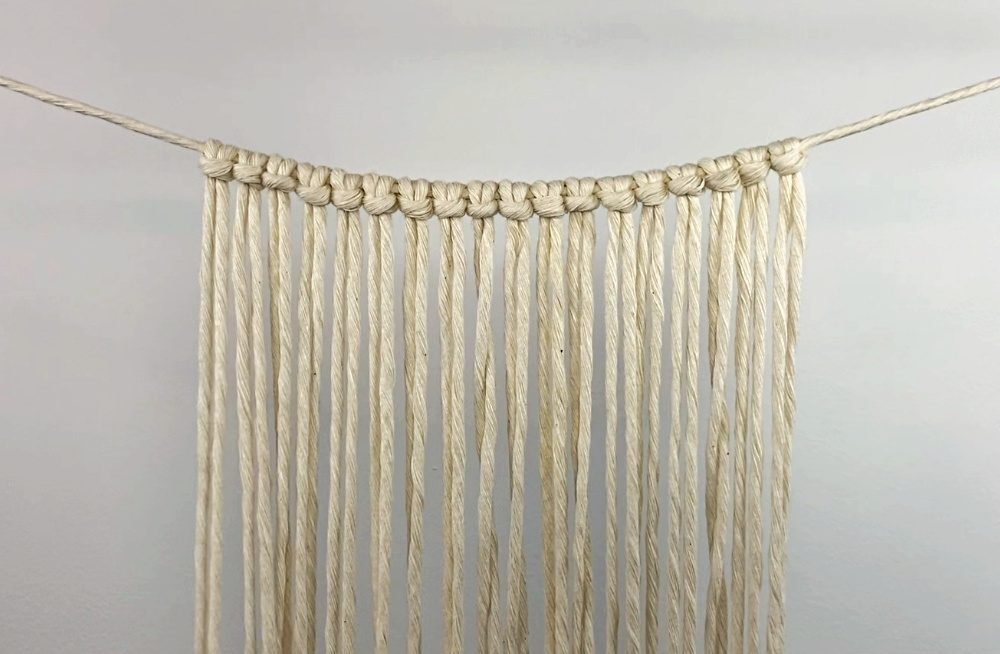 Attach your 65″ holding cord to your rack so it's stretched out and secure.
I made a loop on each end and attached it to a couple of little knobs that stick out of the top of my rack, but you could also tape down a couple of metal hooks and hang it from there.
Then attach the 18 working cords to the holding cord using lark's head knots.
Step 2: Alternating square knots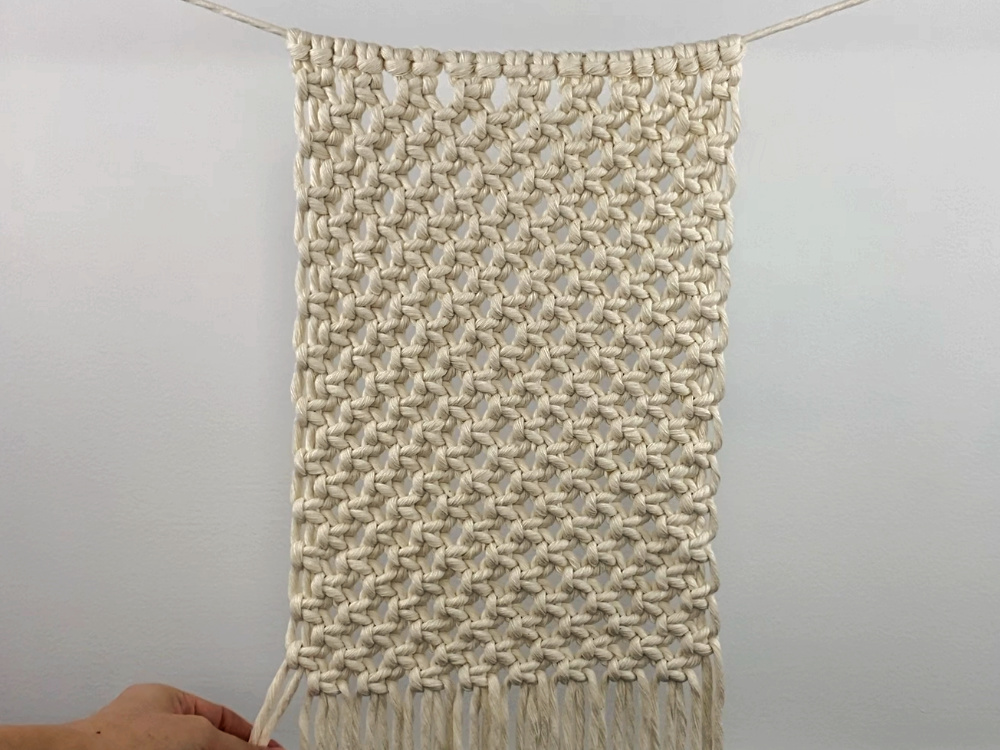 Starting all the way on the left, tie a row of square knots across the top. Tie them pretty snuggly, you don't want big gaps that your stuff can fall through.
For the second row, skip the first two cords and tie another row of square knots across, alternating with the first row. You'll also skip the last two cords.
Repeat rows 1 and 2 until you have 24 rows of alternating square knots.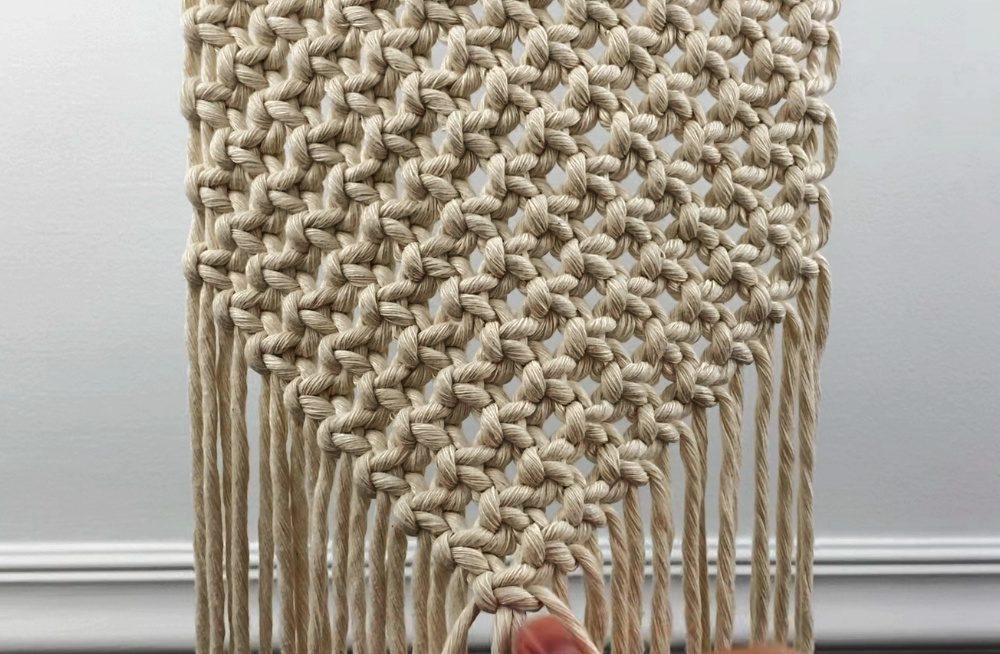 For the next 7 rows, skip 2 extra cords at the beginning and end of each row to create the "V" shape at the bottom.
Step 3: First row of diagonal double half hitch knots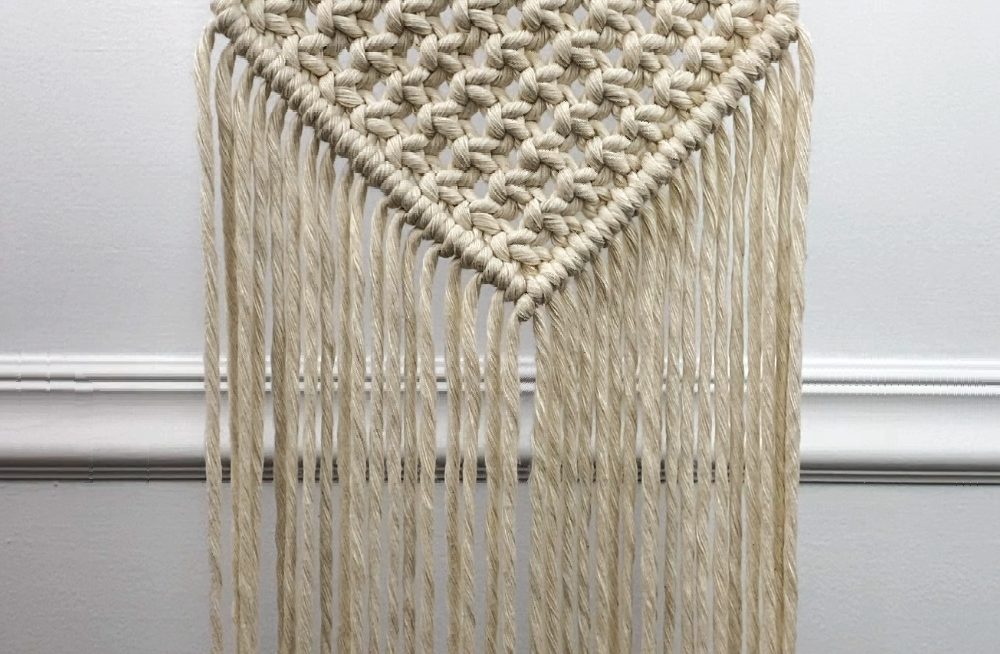 Using the cord furthest to the left as the holding cord, tie a row of diagonal double half hitch knots going down and to the right.
Then, using the cord furthest to the right as the holding cord, tie a row of diagonal double half hitch knots going down and to the left.
Step 4: Row of vertical double half hitch knots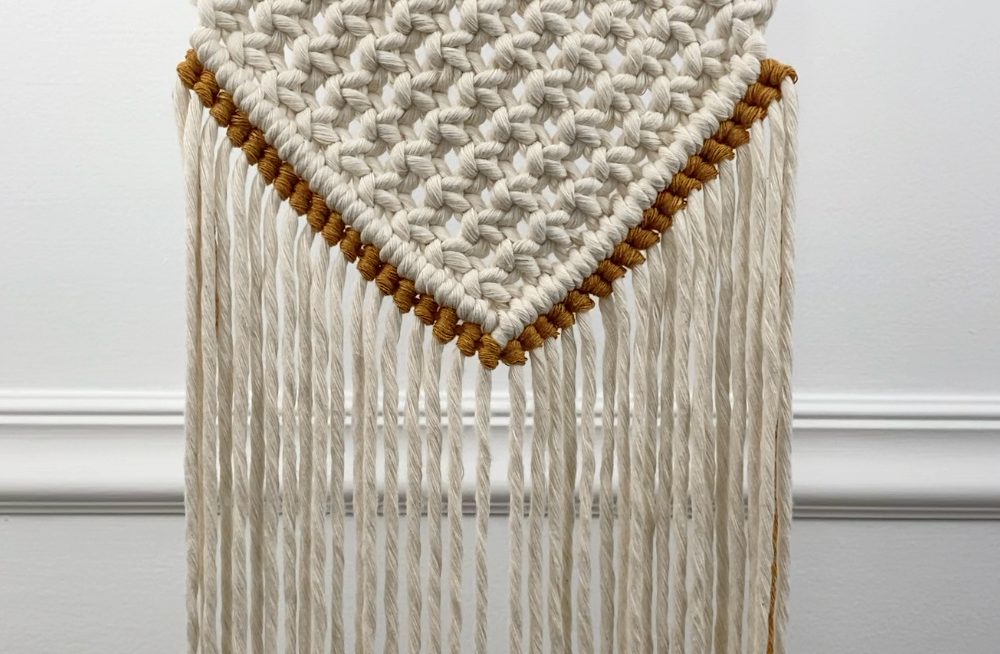 Grab your piece of mustard colored cord (or whatever color you prefer), and tie a row of vertical double half hitch knots under the row of diagonal double half hitches.
Step 5: More diagonal double half hitch knots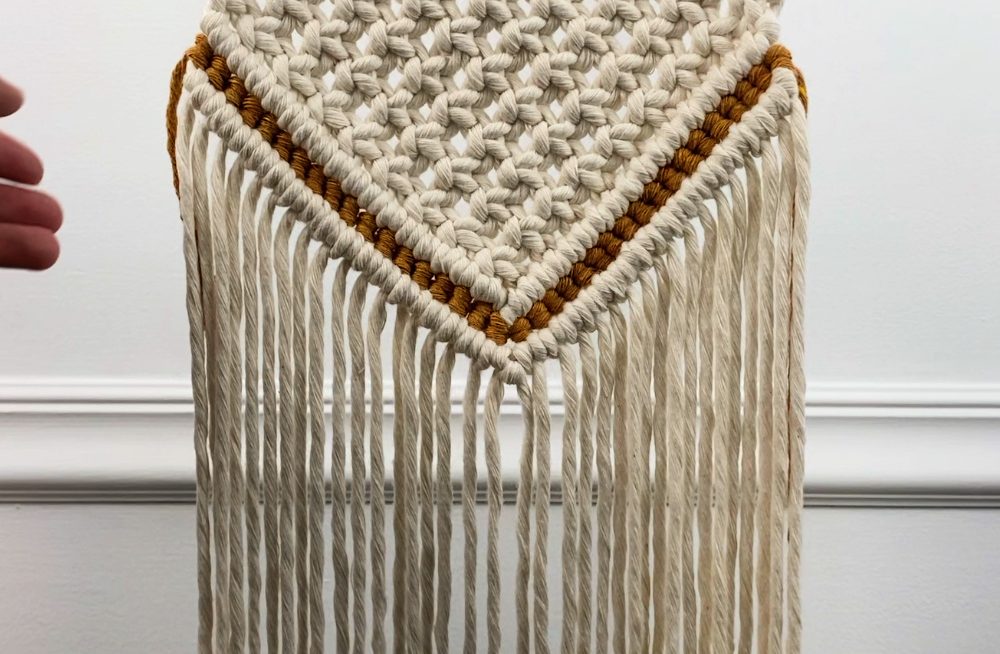 Tie one more row of diagonal double half hitch knots under the row of vertical double half hitch knots.
Step 6: Putting it all together & finishing
Take your purse off your rack and lay it on a table face down.
Weave the ends of the mustard cord under the back loops of a few of the vertical double half hitch knots.
A small crochet hook or large eye needle will make this part much easier!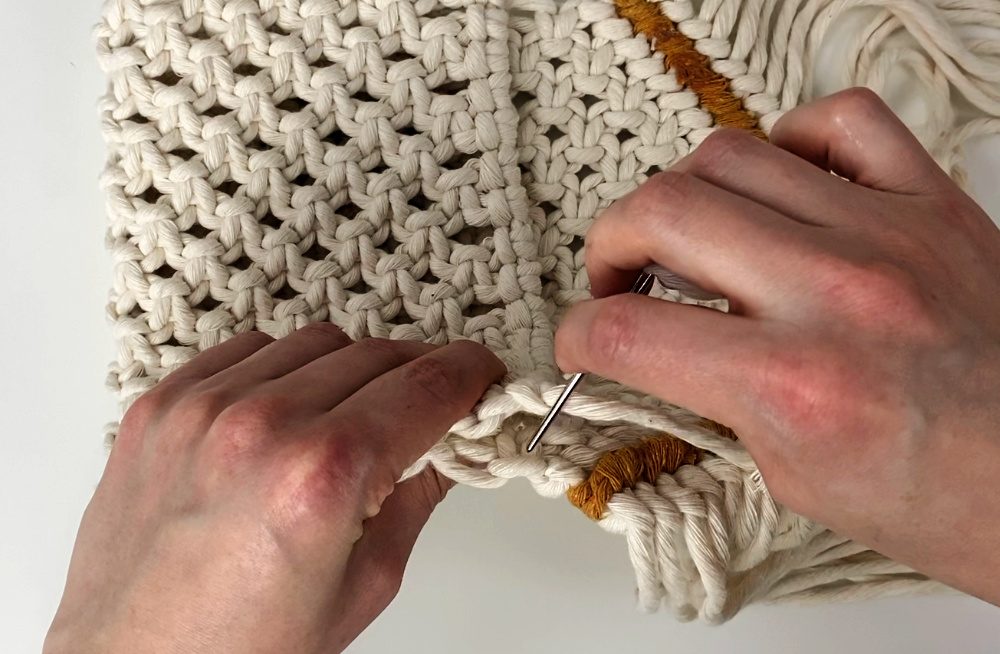 Using the long ends of the holding cord, sew up the sides of the bag.
Fold the bag in half and line up the front edge with the row of square knots right before the double half hitches start. Then sew the side up going back and forth down the edge.
Pull your stitches nice and sew it evenly.
To finish off the side, insert the needle into the corner of the bag and pull it through to the inside. Tie a knot and trim the cord off.
Optionally, you can add a little dab of glue to the knot to keep it extra secure.
Repeat that whole process on the other side as well.
Once you have it all sewn up, trim your fringe down to the length you want it and brush it out really well on both sides.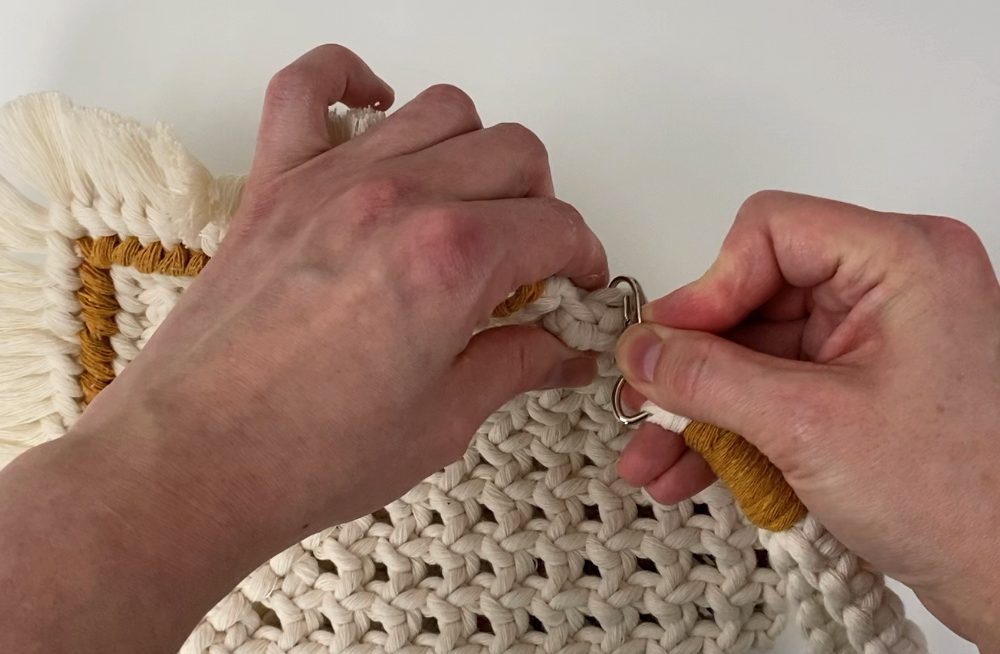 If you made the optional wristlet strap, you can attach that to the side of your purse, and you're done!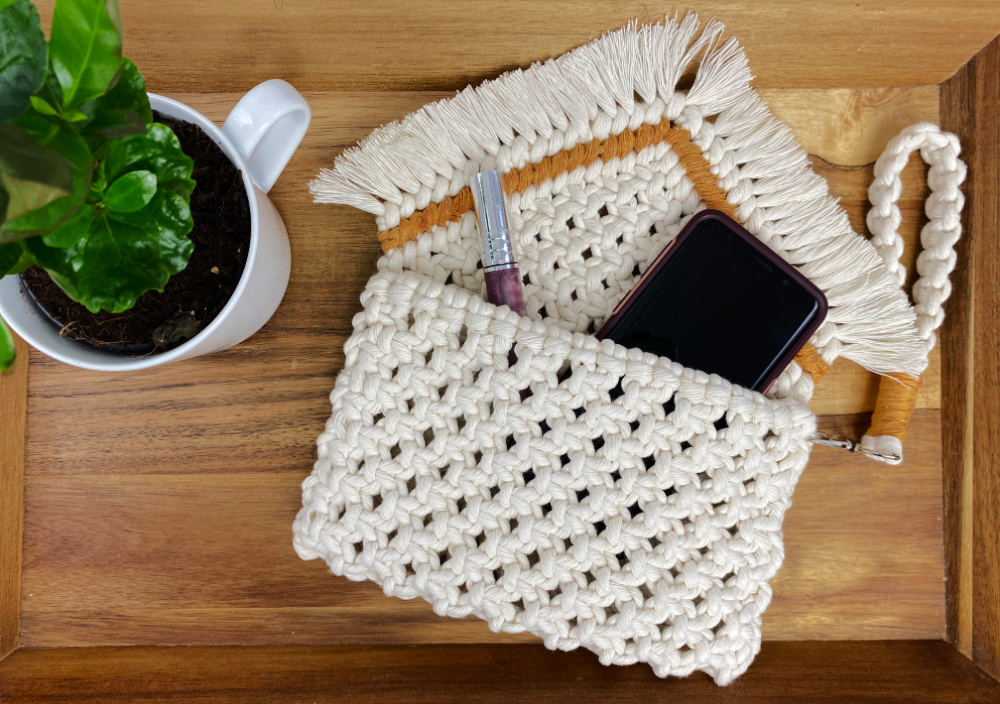 I hope you enjoyed this Macrame Clutch Purse step by step tutorial!
If you make one of these, please post it to Instagram and tag me @marchingnorth. I love seeing your awesome creations, it really makes my day!
Be sure to check out some more of my free macrame (and other craft) tutorials:
DIY Macrame Clutch Purse (Step by Step) | Easy and Elegant!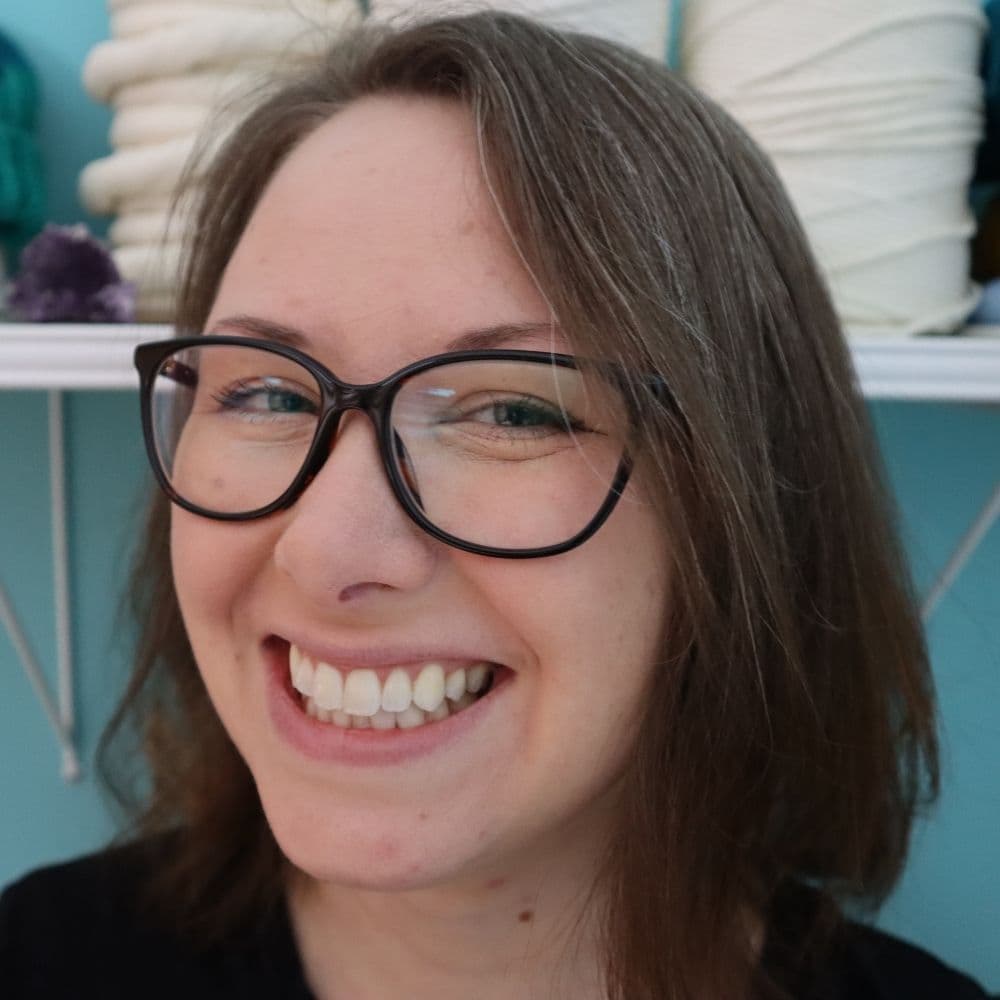 Crystal Martin is the crafty lady behind Marching North. She loves sharing easy to follow tutorials and patterns for macrame, crochet, punch needle, and pretty much anything else involving yarn or textiles.
Her work has been featured on Creative Fabrica, Craft Gossip, Ravelry, as well as her own site and YouTube channels.