Looking for some new knot patterns to spice up your macrame projects? I'll show you some fun and creative knots and knot patterns that anyone can make!
Once you get the basic macrame knots down, like the square knot, lark's head, and double half hitch, you'll want to try some new knots to add a little more excitement to your pieces.
Even if you're still fairly new to macrame, you'll be able to add these knots and patterns to your repertoire!

(This post contains affiliate links. If you click one and make a purchase, I may receive a small commission at no extra cost to you. Read the disclaimer here. Thank you for your support!)
If you're new to macrame or if you've been knotting for a while, connecting with other macrame lovers is always a great idea!
Come check out our Facebook group, Macrame for Beginners and Beyond. It's a friendly community where you can ask questions, get inspiration, and share your awesome work with other macrame lovers! Come join the conversation today!
Macrame for Beginners
If you're new to macrame and looking to learn the basics, you'll find all the info you need to get started in these handy beginner guides!
Plus, check out these handy tutorials and info:
Get your copy of 60 Macrame Knots & Knot Patterns eBook today!
Click here to find out more about this helpful macrame knot book that features step by step photo tutorials for 60 different macrame knots and knot patterns!
It's a perfect resource to help you take your macrame creations to the next level.

Unique Macrame Knots and Patterns
Most of the knots you'll see below are variations of the basic knots, or just different ways of putting them together that gives you a whole new look without being too complicated.
If you're ready to try some new knots and patterns, here are a few of my favorite easy ones that anyone can do!
Square Knot Variations – 4 Unique Macrame Knots & Patterns
In this video, I'll show you how to do four different variations and patterns with the simple square knot!
They're all super easy, but really pack a punch and add loads of visual interest to your macrame wall hangings and other projects.
Vertical Lark's Head Knots – 5 Fun Variations to Try
These vertical lark's head knot patterns are really run to make and look so cool and interesting!
You can add these to a macrame plant hanger or a layered wall hanging and it would really make your design pop. Plus, they're all super easy to create!
3 Unique Lark's Head Knot Alternatives
Tired of attaching your cords to a dowel with regular old lark's head knots? Try one of these unique alternatives!
In this video, I'll show you the reinforced lark's head knot, slingstone hitch, and cat's paw knot.
Besides the fact that they look really great, these other knot techniques have other added benefits. They stay in place more securely than the standard lark's head. Win win!
4 Ways to Start a Macrame Plant Hanger Without a Wooden Ring
Want to make a macrame plant hanger but don't have any sturdy wooden rings laying around? Then this is the video for you!
I'll show you four easy ways to start a macrame plant hanger without a ring, and the bonus is they're all super sturdy and you'll never have to worry about them breaking (unlike those darn wooden rings).
On a side note, if you're looking for good wooden rings that actually don't break, I've had really great luck with these ones.
In Conclusion
I hope you enjoy these unique macrame knot patterns and use them in your future macrame projects!
If you do, please share a pic over on Instagram and tag me @marchingnorth, I just love seeing all your awesome creations! It really makes my day.
Looking for more macrame inspo? Check out the tutorials below!
Related Macrame Posts
Unique Macrame Knots & Patterns (That Anyone Can Make)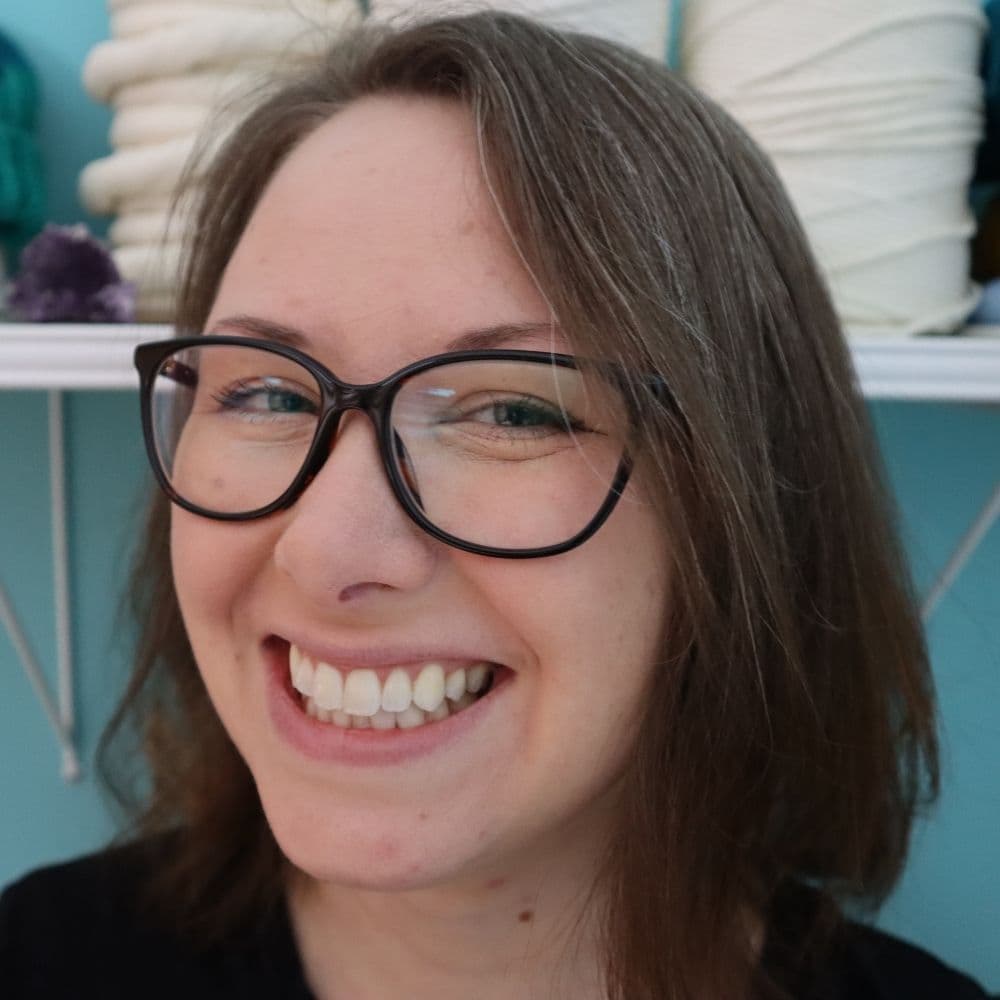 Crystal Martin is the crafty lady behind Marching North. She loves sharing easy to follow tutorials and patterns for macrame, crochet, punch needle, and pretty much anything else involving yarn or textiles.
Her work has been featured on Creative Fabrica, Craft Gossip, Ravelry, as well as her own site and YouTube channels.