Macrame plant hangers are one of my favorite projects for beginners to try. You can make a simple plant hanger with just a few basic macrame knots, some cotton rope and a few minutes of your time!

(This post contains affiliate links. If you click one and make a purchase, I may receive a small commission at no extra cost to you. Read the disclaimer here. Thank you for your support!)
Once you master an easy plant hanger pattern, you can branch out to a different style, different size or dive right into your first (of many) macrame wall hangings. Trust me, it's addictive!
A macramé plant hanger is the perfect simple project to spruce up your living room and you can easily customize it to fit in a small space or make the length longer or shorter depending on your ceiling height.
In this step by step guide for macrame beginners (and beyond), I'll walk you through everything you need to know to make your own beautiful plant hanger, including macrame cord and supplies, the best types of plants to use, and the basic knots you'll need. Let's get started!
If you're totally new to macrame, check out my Macrame for Beginners guide!

Get your copy of 60 Macrame Knots & Knot Patterns eBook today!
Click here to find out more about this helpful macrame knot book that features step by step photo tutorials for 60 different macrame knots and knot patterns!
It's a perfect resource to help you take your macrame creations to the next level.

Types of Macrame Planters
Here are a few different types of macrame plant hangers you can create:
Standard macrame plant hanger – this is the type you usually think of, it holds one plant and is usually a pretty simple hanging planter (some only take 5 minutes!), although it can be more elaborate depending on the knots used or if beads or other decorations are included.

Mini macrame plant hanger – this is usually a super small planter that can hang from your rear view mirror (typically with a fake plant inside), be made into earrings or necklaces, or fit in super tight spaces like school lockers.

Macrame wall plant hanger – this is sort of a hybrid between a plant hanger and a wall hanging. Usually hangs from a dowel and can hold one or more plants depending on the design.

Outdoor macrame plant hanger – this is a plant hanger that is made to withstand the elements. Typically these are made from a synthetic cord that won't rot in the weather, like paracord. Sometimes jute cord is used but it doesn't last as long. You don't want to use cotton rope for this, it just doesn't hold up.

Double (or triple) macrame plant hanger – this is a macrame plant hanger with more than one tier. Usually it's like a regular plant hanger, and then there's another one hanging at the bottom of the first basket. These can be double, triple, or even more depending on the size and how heavy the plants are.
These are the main types of macrame planters you'll come across, although the possibilities are endless!
If you want to try some simple free patterns, check out these easy macrame plant hanger tutorials from my site!
If you're new to macrame or if you've been knotting for a while, connecting with other macrame lovers is always a great idea!
Come check out our Facebook group, Macrame for Beginners and Beyond. It's a friendly community where you can ask questions, get inspiration, and share your awesome work with other macrame lovers! Come join the conversation today!
Basic Macrame Knots and Techniques for Plant Hangers
Once you decide what kind of plant hanger you want to make, you have to get the basic knots and techniques figured out.

Luckily, you only need to know a few knots and they're easy to learn!
The 3 most important knots to know for a simple macrame plant holder are the square knot, wrapping knot, and lark's head knot.
After you get those down, you'll want to branch out to the double half hitch, spiral knots, crown knot, and just keep learning from there.
So many macrame patterns use square knots and double half hitches, so you'll really want to perfect those beginner knots.
Check out this guide to the basic macrame knots for beginners to learn several easy beginner knots that you can use in your plant hangers, plus there's a free printable guide to the 5 most important macrame knots you need to know for your macrame projects.
Supplies You'll Need to Make Your DIY Macrame Plant Holder
Here are a few basic supplies you'll need for creating macrame plant hangers:
Metal ring or wooden ring
Wooden beads
Cotton cord or synthetic rope if it'll be outdoors (you can even recycle old t-shirts to make your own t-shirt yarn!)
Measuring tape
Sharp scissors (see the best scissors for macrame here)
Clothing rack with S-hooks, nail in the wall, or a door knob to hold your planter while you work
Tape to keep your cord from fraying (optional)
Potted plant
Terra cotta pot (or some beautiful handmade ceramics– just make sure they have a drainage hole!)

There are a few different types of macrame cord to choose from for your macrame plant hanger.
My personal favorites are 3-strand macrame rope or single strand macrame cotton string in 4 or 5 mm thickness. The 3-strand rope is stronger and better for heavier plants, and the single strand string is softer and great for combing out beautiful fringe.
You can also use jute or hemp, cotton clothesline, synthetic rope, t-shirt yarn, or even wool yarn (although it's not my top pick).
For macrame planters that will be outside, you'll want to use a synthetic cord like paracord or something similar so it won't rot in the weather. If it is for inside your house, then cotton string or even jute cord is fine and affordable.
I buy all my cotton macrame cords online, but you can get some synthetic cords at your local hardware store and you'll find some macrame cord and paracord at the craft store.
Related: Best Macrame Cord & Supplies (and Where to Find Them)
Best Plants for Macrame Plant Hangers
Once you figure out how to make your own DIY macrame planters, you'll need plants to put in them!
Some plants are better suited for hanging planters than others. It all depends on if the macrame hanger will be indoors or outside, how much sun it'll get, and how often you'll remember to water them!
Here's a list of some great easy plant options that work great in macrame plant hangers.
Air Plants

Air plants (also known as Tillandsia) are perfect for macrame plant hangers and they're so easy to care for!

They're great for brightening up any room, are very low maintenance, are non-toxic to pets or humans, and they're perfect if you don't have much time to care for plants.

They don't even need soil! Just dunk your air plants in water once a week for about 15 minutes, dry them on the counter for a few hours, and put them back in their happy macrame plant home.

They make excellent hanging plants and will look beautiful with all kinds of macrame decor.

Succulents

Succulents (which encompasses many different types of easy care plants, such as aloe, cacti, and Jade plants) are another plant type that are perfect for macrame plant hangers.

They're low maintenance, cute as a button, and best of all – they don't need much water at all. Succulents do well with macrame planters, especially if you use terracotta or ceramic pots.

Just be sure to use the right soil (hint, it's not the typical bag of potting mix you use for all your other houseplants!), don't over water them, and give them plenty of sun depending on the variety.

Some succulents are toxic to pets and humans, so keep them up high if you have human babies or fur babies running around!

Spider Plants

They may sound creepy, but spider plants are one of the best hanging plants to have in your home! Not only are they beautiful, but they purify the air like a champ.

Spider plants can tolerate low light but they prefer bright, indirect light (no direct light though, please!) As your plant gets older, it'll start producing pups (also called spiderettes). You can trim them off, put them in their own pot with soil and water, and they'll grow into even more spider plants.

Water them when the soil is dry at least halfway down the pot (just stick your finger in there to check). Bonus points: spider plants are non-toxic to humans and pets!

Pothos

Pothos is one of my all time favorite house plants. It comes in several beautiful varieties, it's super easy to keep alive, and it vines out all over the place and looks really pretty in a hanging macrame planter!

If your Pothos gets too long for your liking, just cut off a piece of it and propagate a new plant in a cup of water.

These plants just need watered once a week or so and a sunny window to thrive. Keep in mind, these beauties are toxic if ingested so keep them away from your furry friends and your kiddos.
How Much Cord is Needed for a Macrame Plant Hanger?
The amount of cord you'll need for your plant hanger will depend on two main factors: the size/type of cord you use and the size of your pot.

Macrame cord comes in different sizes and types. Some cords are harder and use more cord for each knot, and others are soft and the knots don't eat up quite as much.
For example, 3 strand twisted cotton rope tends to be harder and therefore uses a bit more rope. Single strand cotton string is much softer and uses less cord for the same amount of knots, even if it's the same width of string. Make sense?
Once you decide on the type of cord you want to use, you'll need to take into consideration the width and height of your plant pot, plus how much headroom your plant will need to be happy.
Estimating Macrame Cord Lengths
Most macrame plant hangers start with cords doubled over and attached to a wooden or metal ring with lark's head knots.
When your totally not sure and just estimating cord lengths, you can generally assume that you'll need each cord to be 4x the length of your finished planter design. Since they'll be doubled over, that means you'll need to multiply that times 2, so make the cords 8x as long as your finished project.
I do this method when I'm not wanting to math very much (which is most of the time), and I take notes of how much cord I end up cutting off at the end and subtract it from my starting number. That way, when I go to make the same design again, I won't have to waste any cord.
Here's a quick tip: I used a tape measure to measure my arm span when I have both of my arms stretched out on either side, and I use that to measure my cords.
When I'm taking notes I just write how many arms lengths I used and convert it to actual measurements later. It's easier than measuring while you're trying to figure it all out!

Related: How to Cut PERFECTLY Straight Macrame Fringe (3 Easy Hacks!)
Free Macrame Plant Hanger Patterns
Now that we learned everything you could possibly need to know about making macrame plant hangers, let's take a look at some free patterns!
These patterns are from my site, and include step by step written instructions plus easy to follow video tutorials. They're all beginner-friendly tutorials and use basic knots. Let's take a look!
More DIY Macrame Plant Hanger Patterns
Once you get the basics down and make a few beginner friendly plant hangers, you'll want to branch out into more complicated and fun designs.
Here's a list of some excellent premium macrame plant hanger patterns available to purchase from my favorite designers!
Awesome Macrame Plant Hanger Patterns
Check out these premium macrame plant hanger patterns from some of my favorite small shops!
Photo Credit: www.etsy.com
The Josephine knot gives this macrame plant hanger such a sophisticated look.
Once you get the basic knots down, you'll want to start learning intermediate knots like this one and add some flair to your macrame projects!
Photo Credit: www.etsy.com
This macrame plant hanger looks so ornate and intricate, but it's simpler than you might think!
After you get a few beginner projects under your belt, this macrame pattern is a perfect way to expand your skill set.
Photo Credit: www.etsy.com
Get two plants in one beautiful macrame plant hanger with this pattern!
This simple but fun pattern will help you learn how to create two tier (and more) plant hangers.
Photo Credit: www.etsy.com
Wall plant hangers are so cute and a great multitasking project. You get wall decor and a plant hanger all in one!
This design is simple enough for a confident beginner who's learned the basic knots and is ready for a fun new project.
Photo Credit: www.etsy.com
This dramatic macrame plant hanger is so gorgeous!
Once you have the square knot down really well, try this pattern to upgrade your decor and practice tying your knots nice and even.
Photo Credit: www.etsy.com
Have a lot of plants to hang and not a lot of space? This plant hanger is a perfect solution!
You'll utilize your vertical space and learn some new macrame skills while you do it. Win win!
Photo Credit: www.etsy.com
You can make so many gorgeous patterns with square knots and double half hitch knots combined in different ways. This macrame plant hanger pattern is a great example!
As you can see in the photo, changing the color of your cord can totally change the vibe of your macrame plant hanger. Have fun experimenting!
Photo Credit: www.etsy.com
This macrame plant hanger pattern is a big more intricate looking, but all the knots are actually very simple.
Another awesome example of the cool things you can create with just a few basic knots!
Photo Credit: www.etsy.com
Add some boho flare to your room with this beautiful diamond macrame plant hanger pattern!
It's simple to make, but has a big impact because of the thoughful design. Be sure to check it out!
Photo Credit: www.etsy.com
These adorable macrame pods are perfect for air plants!
You can make a whole bunch of them and group them together at different heights like the photo and hang them from a beautiful piece of driftwood- so fun!
In Summary
I hope you found lots of helpful tips and inspiration in this How to Make a Macrame Plant Hanger DIY Guide!
If you have any questions, feel free to leave them below and if you get inspired to create your own macrame plant holder, please share a pick on Instagram and tag me @marchingnorth so I can see! It really makes my day 🙂
Related Posts
How to Make a Macrame Plant Hanger (easy DIY tutorial & ideas!)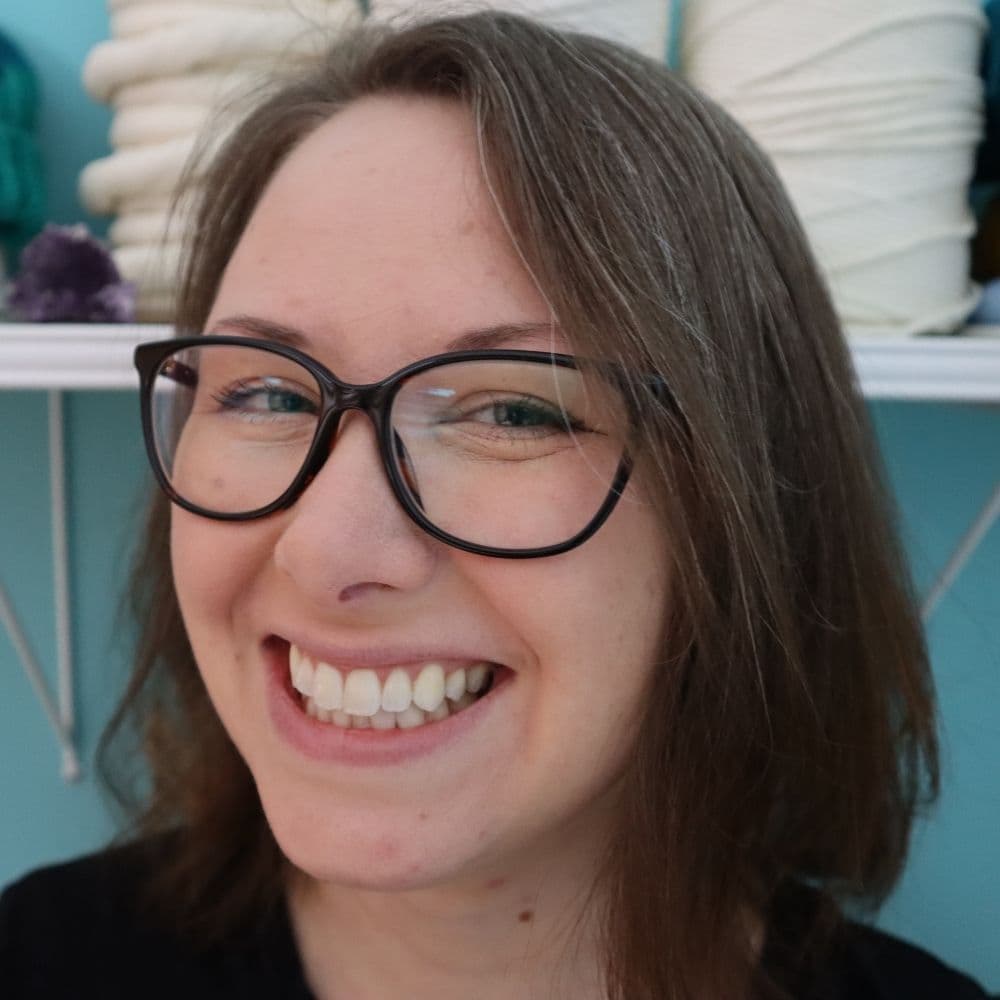 Crystal Martin is the crafty lady behind Marching North. She loves sharing easy to follow tutorials and patterns for macrame, crochet, punch needle, and pretty much anything else involving yarn or textiles.
Her work has been featured on Creative Fabrica, Craft Gossip, Ravelry, as well as her own site and YouTube channels.