A macrame fruit and veggie hammock is a great way to free up counter space and add some eclectic decor to your kitchen that's perfect if you're a macrame lover!

(This post contains affiliate links. If you click one and make a purchase, I may receive a small commission at no extra cost to you. Read the disclaimer here. Thank you for your support!)
I love making macrame wall hangings, but there's just something awesome about a finished work of art that's both beautiful AND super useful.
This cabinet macrame fruit hammock is the perfect way to store your fruits and veggies that you need close at hand but off of your counter tops.
It's a great macrame project if you have a small kitchen (like me), and it'll look great with your macrame plant hangers or your macrame table runner!

You could also use this idea to make handy macrame toy hammocks for your kids room. My kids have been using the one in our kitchen as a hammock chair for their plushies as well, so there are a lot of ways to have fun with this easy project!
All you'll need for this DIY is some macrame cord, a dowel rod or two, and some basic knots. Don't worry, I'll walk you through the whole process step by step!
You'll also need a way to hang your hammock. There's a more permanent way with screw in hooks, and a temporary way that's a good idea for a small apartment or if you think you'll want to move your hammock later on.
I decided to go with the Command hooks because we're planning on selling our house eventually and I didn't want to deal with the holes later. So far they have held up very well with no signs of falling off, so that's a win!
If you're new to macrame or if you've been knotting for a while, connecting with other macrame lovers is always a great idea!
Come check out our Facebook group, Macrame for Beginners and Beyond. It's a friendly community where you can ask questions, get inspiration, and share your awesome work with other macrame lovers! Come join the conversation today!
New to macrame? Learn the basic macrame knots in this complete guide for beginners!
Not sure what supplies you need to get started with macrame? Check out this simple macrame supplies guide for beginners!
Supplies You'll Need for Macrame Fruit Hammock
DIY Macrame Fruit Hammock Tutorial
Subscribe to Marching North on YouTube!
NOTE: It's a really great idea to measure how deep your cabinet is NOW and trim your dowel down to the appropriate length before you start.
I did not do that, instead I made the hammock and had to trim the dowel down about an inch or so when I went to install. It still worked out fine, but it'll be a little easier if you trim the dowels first instead of later.
Just an FYI!
Step 1: attach cords to one dowel
Attach one of the cords to one of the dowels using a lark's head knot.

Then tie an extra hitch knot on the right and the left to make an extended lark's head knot.

Repeat that with the remaining cords. This will make a nice firm knot for our foundation.

Step 2: tie alternating square knots
Secure the dowel to your workspace with tape.
Tie the first square knot all the way on the left, and continue to tie square knots across until you have 6 for the first row.

Leave about a finger width of space between the row of square knots and the dowel.
Move down about an inch or so, skip the first string and second string, and tie a row of 5 square knots going across. These will be in between each square knot from the previous row.

This is called alternating square knots. You'll also skip the last two cords.
Repeat rows one and two until you have 15 rows all together. This will form the body of the hammock.
Step 3: attach ends of cords to second dowel
Grab the other dowel and lay it over the straightened out ends of the cords under all the rows of square knots.

Attach each cord to the second dowel using a double half hitch knot, going from left to right. Leave about a fingers width of space between the last row of square knots and the dowel.

Step 4: secure and trim excess cord
Flip the macrame hammock over to the back and tighten the double half hitch knots one more time to make sure they're really secure.

Squirt a line of glue all across the back of the double half hitch knots. Then use your finger or a paintbrush to spread the glue out so it covers the backs of the knots. Let it dry.

Once the glue is totally dry, grab a pair of scissors and cut off the long ends of the cord close to the knots. I left about half an inch of cord sticking out. The glue should keep it nice and secure.

Hold the two dowels together and make sure the cords are spaced out enough that they cover the same amount of dowel. If they're not even, spread the knots out a bit on the double half hitch side.

Step 5: install!
Now you need to decide if you want to use the screw in hooks or Command strip hooks. It really depends on how permanent you want your macrame fruit basket to be. We're planning on moving eventually so I went with Command hooks.

Also, if you're like me and just made the hammock and decided to see how it would fit afterwards (doh!), now you'll need to test fit and see if you need to trim down the dowel.

I trimmed about an inch or so off of my dowels so it would fit perfectly beneath the cabinet. If you have to do the same, you'll want to sand down the ends to make everything nice and smooth.

OK, now decide where you want the left side of your hammock to be. Either screw in the hooks on that side, or attach the Command hooks. Repeat for the right side.

Done!

I hope you enjoyed this easy macrame hammock pattern! If you make one of these, please share a picture over on Instagram and tag me @marchingnorth so I can take a look. I love seeing all of your awesome creations!
Looking for another free macrame pattern? Check out one of these!
How to Make an Easy DIY Macrame Fruit Hammock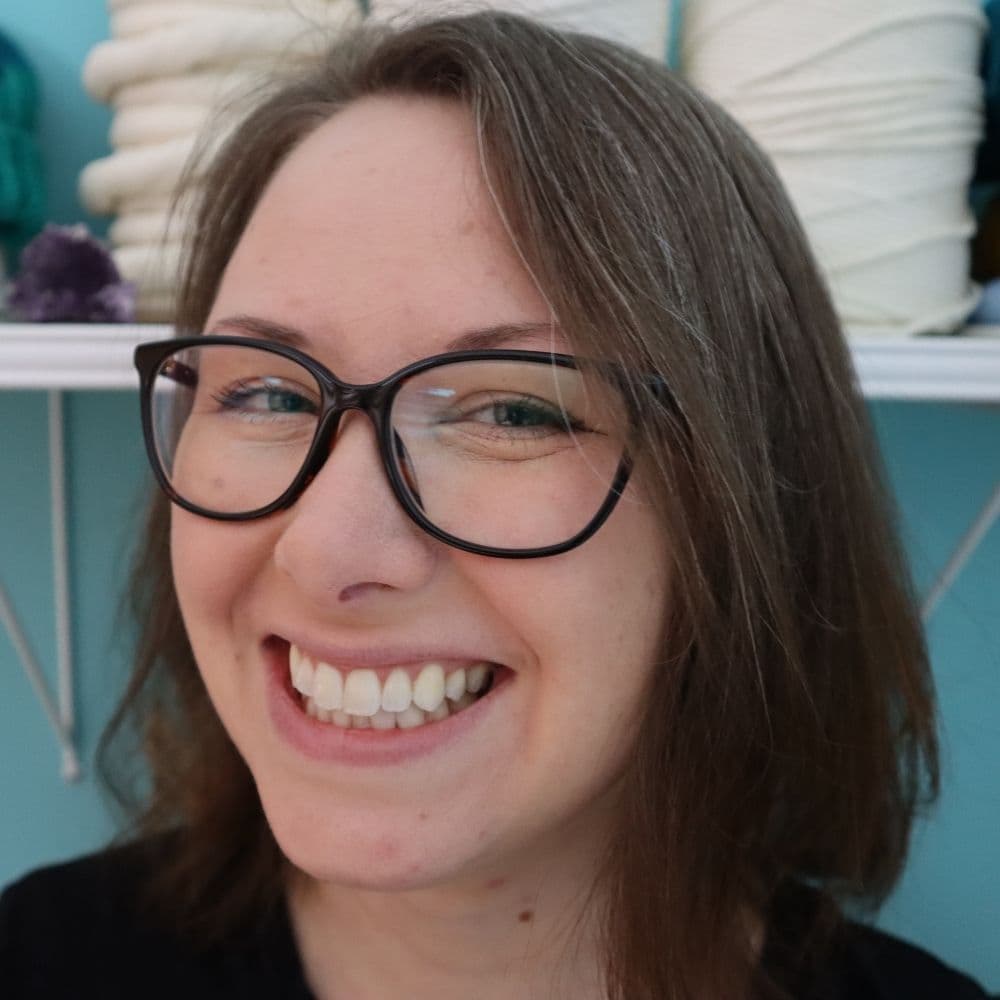 Crystal Martin is the crafty lady behind Marching North. She loves sharing easy to follow tutorials and patterns for macrame, crochet, punch needle, and pretty much anything else involving yarn or textiles.
Her work has been featured on Creative Fabrica, Craft Gossip, Ravelry, as well as her own site and YouTube channels.