Are you looking for some beginner friendly free macrame wall hanging patterns? I've got 21 for you right here, including written instructions and video tutorials!

Macrame wall hangings are one of the most popular macrame projects (next to plant hangers) and they're so much fun to make!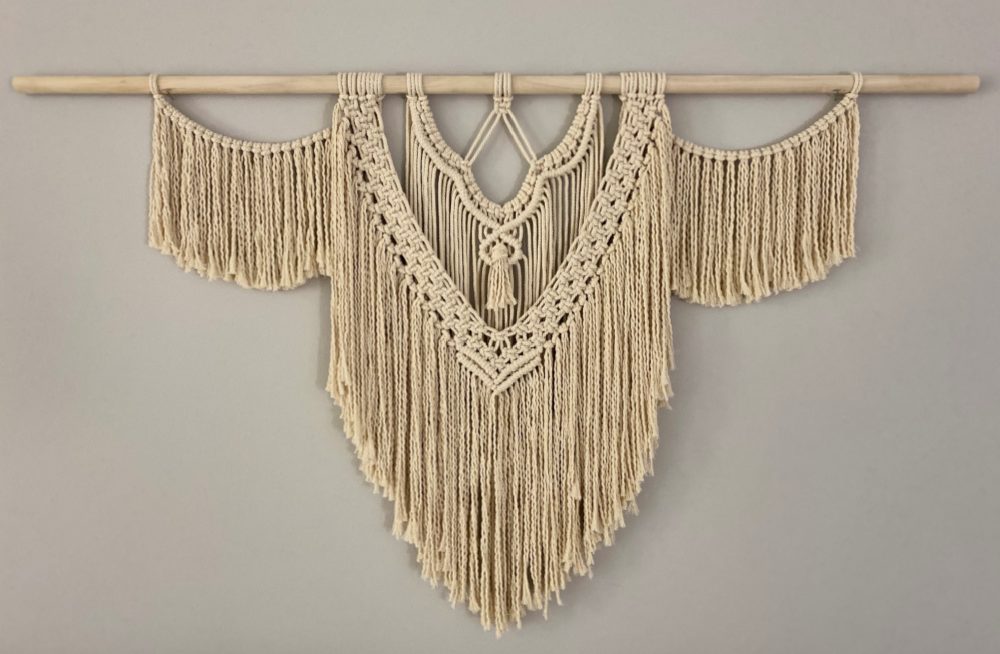 At first they may seem intimidating, but the truth is most macrame wall hangings are made with just a few simple knots.
That's the great thing about them, even beginners can make a gorgeous DIY wall hanging once you get the basics down!
If you're totally new to macrame, be sure to check out my Macrame for Beginners post, and sign up to grab your free printable guide to the 5 Basic Macrame Knots for Beginners. It'll get you headed in the right direction!
Get your copy of 60 Macrame Knots & Knot Patterns eBook today!
Click here to find out more about this helpful macrame knot book that features step by step photo tutorials for 60 different macrame knots and knot patterns!
It's a perfect resource to help you take your macrame creations to the next level.

(This post contains affiliate links. If you click one and make a purchase, I may receive a small commission at no extra cost to you. Read the disclaimer here. Thank you for your support!)
Also, be sure to check out our macrame Facebook group! It's a great positive learning community with macrame artists of all skill levels!
If you're new to macrame or if you've been knotting for a while, connecting with other macrame lovers is always a great idea!
Come check out our Facebook group, Macrame for Beginners and Beyond. It's a friendly community where you can ask questions, get inspiration, and share your awesome work with other macrame lovers! Come join the conversation today!
Before we jump into the list of free patterns, there are a few common questions that I see people asking about macrame wall hangings. Let's take a look at a few of them and I'll answer them for you!
How do you start a macrame wall hanging?
First you need to decide if you'll be using a dowel, a pipe, or a piece of driftwood at the top of your wall hanging.
You can get wooden dowels at the hardware store in several different diameters and lengths and even different types of wood and colors. They also have lengths of copper pipe that make a really pretty base for your macrame project.
Driftwood is also super popular for these. If you don't have driftwood near you, go out in the woods and find a nice looking stick, wash it up, sand it a bit and it's ready to use! Or you can order a nice piece of driftwood online (yes, I've done that!)
If you're making a round wall hanging, a metal ring is a great base and they come in loads of different sizes.
Once you figure out your base, you need to attach your cords!
My favorite way to start a macrame wall hanging is by tying the cords on with simple lark's head knots. If you're looking for some alternative ways to attach the ropes to your base, here are a few interesting options to check out.

How long does it take to make a macrame wall hanging?
If you're making a small macrame wall hanging, you could probably finish it up in an hour or two.
For larger more elaborate macrame wall hangings, expect to put in several hours of work. You'll need to take plenty of breaks because it can be hard on your back and your hands after a while!
Luckily, the process is very relaxing and meditative, so you shouldn't even notice how long you've been knotting away.

What is the best rope to use for a macrame wall hanging?
If you want your knots to really hold their shape well, a three strand rope is best for your wall hanging.
They tend to be stiffer and a bit tougher to work with, but they make the shapes of the knots stand out nicely.
If you're going to be including a lot of fringe in your wall hanging, single strand macrame string is a great choice and it's really easy on your hands.
It doesn't hold it's shape quite as well as the three ply, but it has a beauty all of it's own and sometimes it's just what you need to get the look you want.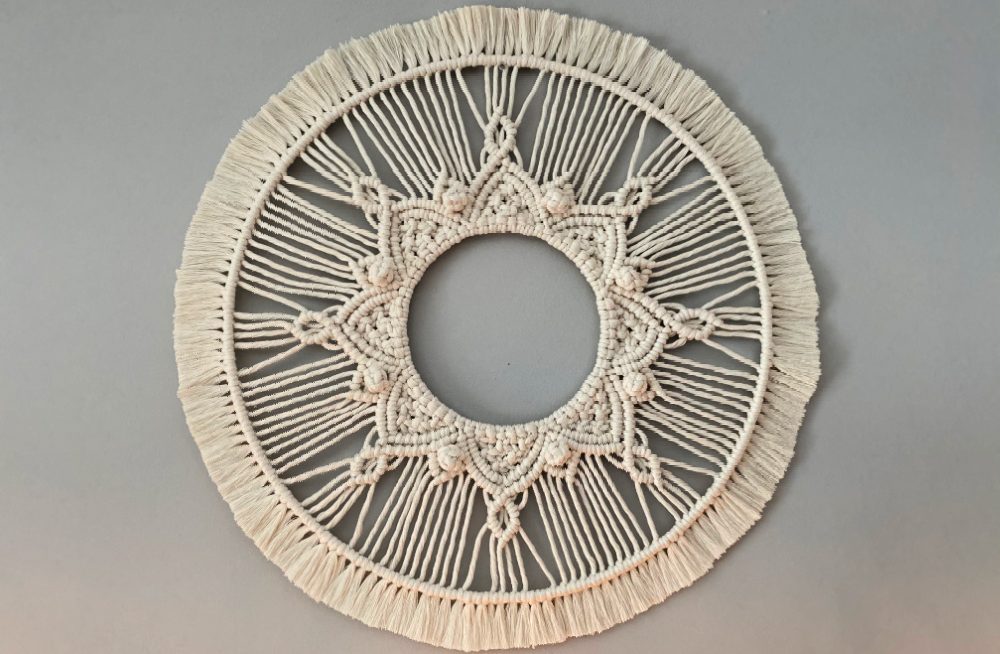 How do you hang a large macrame wall hanging?
There are a couple of ways to hang a large macrame wall hanging.
One way is by tying a hanging rope on each end of the dowel using the constrictor knot and then hanging it up on the wall with a nail.
If you don't want to do that, you can also just put two (or more) long nails in the wall and leave them sticking out a couple of inches.
Then you can rest the dowel of your wall hanging across them and you'll barely be able to notice the nails.
If you go that route, be sure to use a level to get the nails nice and straight, and you might want to use drywall anchors and screws instead depending on your wall.
Related: Best Macrame Supplies (and Where to Find Them)
---
OK, now that we answered some common questions, let's take a look at the free macrame wall hanging patterns!
21 Free Step-By-Step Macrame Wall Hanging Patterns
Looking for some boho DIY home decor ideas? Check out these eighteen free macrame wall hanging patterns!
They include video tutorials and written instructions and are easy enough for beginners and beyond.
---
I hope you enjoyed these free macrame wall hanging patterns!
If you make one of these, please share a pic to Instagram and tag me @marchingnorth. I love seeing your creations, it really makes my day!
More Macrame Fun
21 Free Step-by-Step Macrame Wall Hanging Patterns (Beginner Friendly!)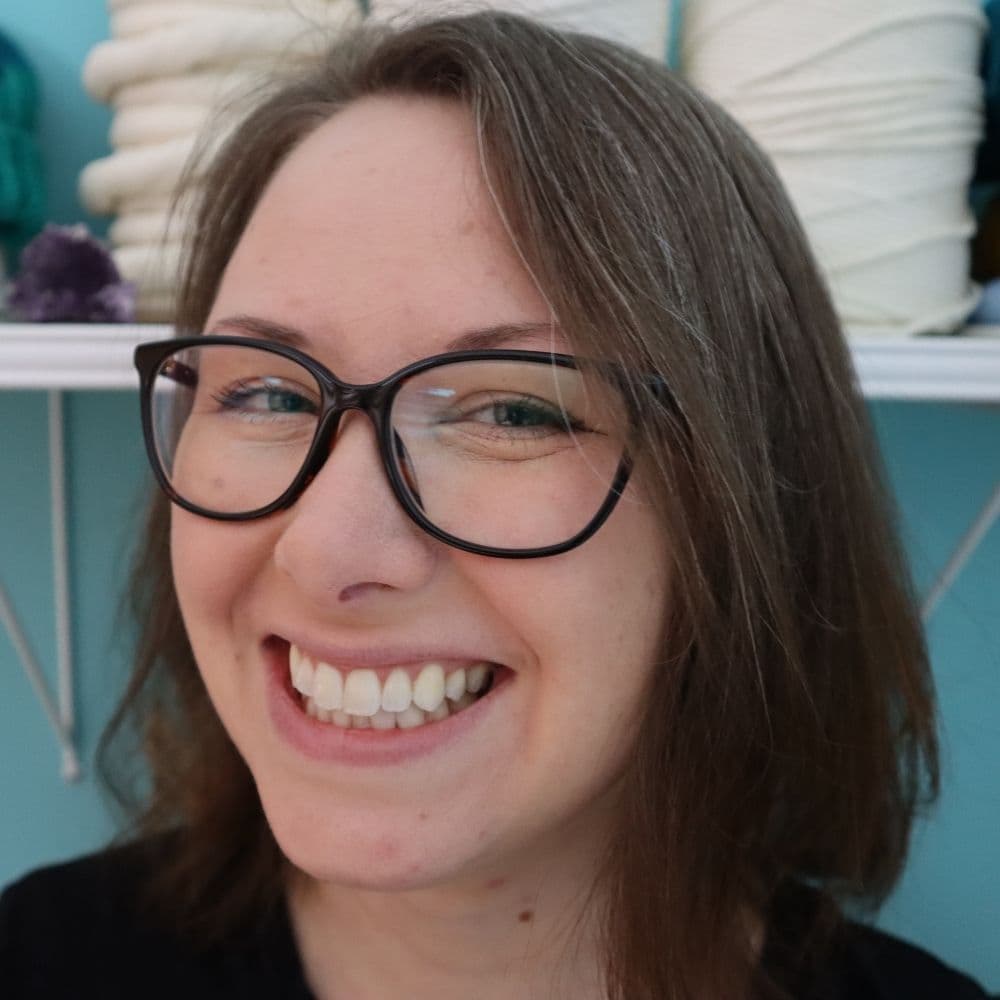 Crystal Martin is the crafty lady behind Marching North. She loves sharing easy to follow tutorials and patterns for macrame, crochet, punch needle, and pretty much anything else involving yarn or textiles.
Her work has been featured on Creative Fabrica, Craft Gossip, Ravelry, as well as her own site and YouTube channels.